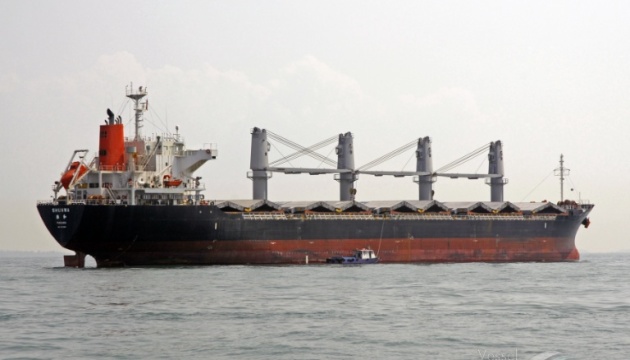 Russian ship carrying stolen Ukrainian grain again arrives in Syria - media
New satellite imagery shows that a Russian freighter full of grain allegedly stolen from Ukrainian farms has arrived in the Syrian port of Latakia -- its second trip within four weeks.
That's according to CNN, Ukrinform reports.
The new images -- provided by Maxar Technologies -- show the bulk carrier Matros Pozynich at Latakia on May 27.
It is one of three vessels that have been loading grain in the port of Sevastopol in occupied Crimea since the Russian invasion of Ukraine. It was last seen in Sevastopol on May 19 and subsequently tracked transiting the Bosphorus strait and south along the Turkish coast. The ship can carry about 30,000 tons of grain.
The Matros Pozynich's sister ship has also loaded grain at Sevastopol in the last two weeks.
Convoys of trucks have been seen carrying grain from farms and silos in the occupied parts of southern Ukraine into Crimea, the peninsula illegally annexed by Russia back in 2014. Ukrainian authorities estimated earlier this month that Russian forces in occupied areas had seized more than 400,000 tons of grain.
The grain thefts are threatening this year's harvest in Ukraine, one of the world's most important grain-producing countries.