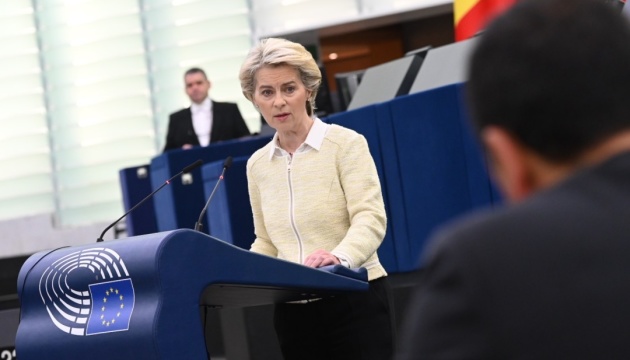 European Union to set up special financial platform for reconstruction of Ukraine
The European Union together with Ukraine will create a financial platform of reconstruction that will help Ukraine rebuild critical infrastructure after devastating Russia's aggression and pave the way for a European future through key economic, legal, and social reforms.
"That is the short term. But much more needs to be done. With the same resolve, we will – hand in hand – help Ukraine rise from the ashes. That's the idea behind the reconstruction platform, that I have proposed to President Zelensky. Yesterday in his speech here in Davos, he recognized the unprecedented unity of the democratic world. The understanding that freedom must be fought for. The rebuilding of Ukraine also calls for our unprecedented unity," President of the European Commission Ursula von der Leyen said at the World Economic Forum in Davos, an Ukrinform correspondent reports.
As noted, the reconstruction platform will be led by Ukraine and the European Commission and combine reform with investment.
"The platform invites global contributions from any country that cares about the future of Ukraine. From international financial institutions and from the private sector. We need everyone on board. And I was glad to hear about the conference in Lugano. Borge Brende called it a Marshall plan for Ukraine. And, we should leave no stone unturned, including, if possible, Russian assets," the European Commission President said.
She stressed that Europe's efforts should focus not only on the reconstruction of all that has suffered from Putin's destructive aggression. It is also about building a democratic future, chosen by Ukrainians themselves and worked on for many years.
"The reconstruction of the country should combine massive investment with ambitious reforms. To modernize Ukraine's administration. To firmly establish the rule of law and the independence of the judiciary. To fight corruption. To build a fair, sustainable and strong, competitive economy. And thus to firmly support Ukraine in pursuing its European path. Ukraine belongs in our European family," von der Leyen underscored.
The official noted that the Ukrainians had stood tall in the face of brutal violence, stood for their own freedom and for humanity.
"We stand with them and I think this is a defining moment for the democracies of the world," the European Commission President added.
On July 4-5, 2022, the 5th international Ukraine Reform Conference #URC2022 will be held in Lugano, Switzerland. Among other things, the participants will consider the implementation of decentralization policy, regional development and partnership between cities and regions of Europe and Ukraine.
On February 24, the Russian Federation launched a new phase of the war against Ukraine – a full-scale invasion. The invaders shell and bomb the Ukrainian cities, towns, and villages, torturing and killing civilians.
Since the Russian invasion, the European Union and its member states have shown sincere solidarity with Ukraine, provided strong political, economic, financial, humanitarian, military assistance and imposed five packages of sectoral and individual sanctions against the aggressor country.
ol