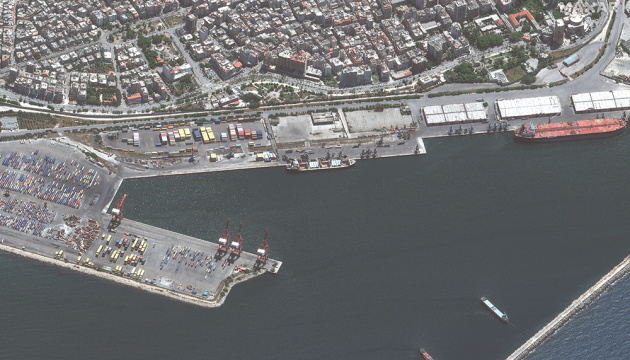 Ukraine's MFA slams Russia as its ship moves stolen Ukrainian grain to Syria
A Russian merchant ship loaded with grain stolen in the occupied territories of Ukraine has been spotted in the Syrian port of Latakia.
CNN has identified the vessel as the bulk carrier Matros Pozynich, referring to shipping sources, Ukrainian officials, and Maxar Technologies satellite images.
On April 27, the ship weighed anchor off the coast of Crimea. The next day, it was seen at the port of Sevastopol. From Sevastopol, the Matros Pozynich transited the Bosphorus strait and made its way to the Egyptian port of Alexandria. Egypt was warned that the grain was stolen, and the shipment was turned away. The Matros Pozynich steamed toward the Lebanese capital of Beirut with the same result. Maxar Technologies shows it traveled to the Syrian port of Latakia.
The Matros Pozynich is reported to be laden with nearly 30,000 tonnes of Ukrainian wheat, according to Ukrainian officials. The ship is one of three ships involved in the trade of stolen grain, according to open-source research and Ukrainian officials.
Meanwhile, Minister of Foreign Affairs of Ukraine Dmytro Kuleba reacted sharply.
"Russia has committed a triple crime: it bombed out Syria, temporarily occupied a part of Ukraine, and is currently selling Ukrainian grain it has stolen there to Syria. I would like to remind everyone involved in this murky business that theft has never brought anyone luck," Kuleba stated.
Anyone participating in the selling, transportation, or purchase of our stolen grain is an accomplice to this crime, he noted.
Egypt and Lebanon declined to acquire the stolen Ukrainian grain following efforts by Ukrainian diplomats. Other consumer countries were also warned by the Ministry of Foreign Affairs of Ukraine that Russian grain consignments may contain Ukrainian grain looted by Russian occupants.
"Ukraine's Ministry of Foreign Affairs strongly opposes Russia's activities in disposing of food unlawfully seized from the Ukrainian farmers. Russia once again proves its criminal nature as a looter-state," reads the statement.
Ukraine's MFA underscores that Russian occupants have already seized at least 400-500 thousand tonnes of grain worth more than $100 million. Almost all grain-laden ships departing Sevastopol transport stolen Ukrainian goods.
ol