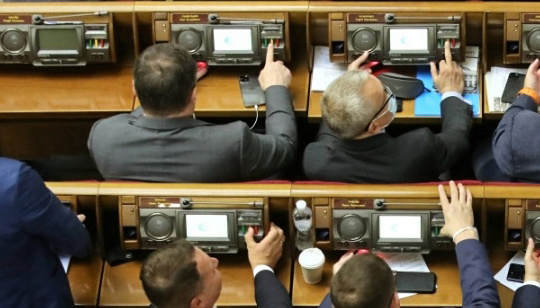 Parliament passes law to seize assets of Russia's Sberbank, VEB.RF
The Verkhovna Rada of Ukraine passed a law approving the decision of the National Security and Defense Council to seize the assets of Sberbank of Russia and VEB.RF in Ukraine.
"Rada approved a presidential decree on seizure of Russian property with 334 votes for," MP Yaroslav Zheleznyak posted on Telegram.
The text of the bill "On Approval of the Decree of the President of Ukraine 'On Decision of the National Security and Defense Council of Ukraine of May 11, 2022 'On Seizure of Property of the Russian Federation and Its Residents'" (No.7371) is published on the Verkhovna Rada website.
"To seize in Ukraine such property rights of the Russian Federation and its residents as 99.772644% of shares of Prominvestbank (PIB, Kyiv) owned by the state development corporation VEB.RF and 100% of shares of the International Reserve Bank (MR Bank, formerly Sberbank, Kyiv), owned by Sberbank of Russia," the accompanying documents say.
In addition, other financial assets of the mentioned subsidiaries of the Russian banks, except for UAH 3 billion of MR Bank transferred to satisfy creditors' claims, are seized.
As reported, on March 11, the National Security and Defense Council made a decision to extend the sanctions on two Russian banks, Sberbank JSC and Prominvestbank PJSC.
On April 9, the Cabinet of Ministers adopted a decision to seize corporate rights and financial assets of MR Bank and Prominvestbank withdrawn from the market at the beginning of the war.
ol