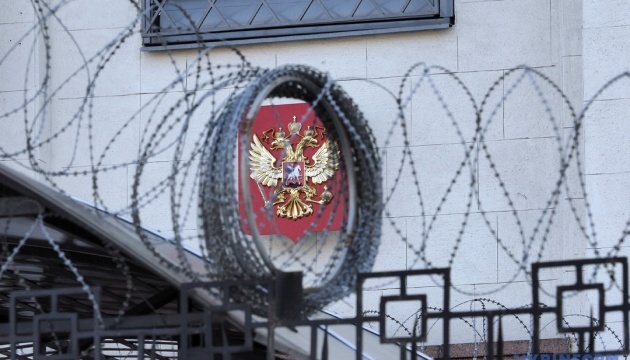 United States updates sanctions list against Russia
The U.S. Department of the Treasury has published a list of Russian companies and individuals, on which new sanctions were imposed on May 8, 2022.
The relevant statement was made on the website of the U.S. Department of the Treasury, an Ukrinform correspondent reports.
"Today, the U.S. Department of the Treasury's Office of Foreign Assets Control (OFAC) designated individuals and entities critical to Russia's ability to wage war against Ukraine. These include the board members of two of Russia's most important banks, a Russian state-owned bank and 10 of its subsidiaries, a state-supported weapons manufacturer, and three of Russia's state-controlled television stations that generate revenue for the state," the report states.
On February 24, OFAC designated the First Deputy Chairman of the Executive Board of Public Joint Stock Company Sberbank of Russia (Sberbank). Today, OFAC has designated eight other current and recent members of the Executive Board of Sberbank. In addition, OFAC designated 27 members of Gazprombank's Board of Directors.
The sanctions list also included Moscow Industrial Bank (MIB), which is a state-owned bank actively involved in Russia's financial services sector, and 10 of its subsidiaries, namely Agropromyshlenny Kompleks Voronezhski OOO, Anninskii Elevator OOO, Auditkonsalt OOO, Belinveststroi OOO, Dve Stolitsy OOO, Kontrakt OOO, Ladoga OOO, Nekommercheskaya Organizatsiya Fond Khimicheskoe Razoruzhenie I Konversiya, Azovskaya Zernovaya Kompaniya OOO, Ekspluatiruyushchaya Kompaniya Tsentr OOO.
Sanctions were also introduced against Promtekhnologiya LLC, which produces rifles under the ORSIS brand and supplies Russia's military and intelligence services with its products. Promtekhnologiya has long been associated with the Russian government.
OFAC also designated three of Russia's most highly viewed state-owned television stations, namely Channel One Russia, Russia-1 and NTV.
In addition, the U.S. Department of the Treasury took action to "cut off Russia's access to certain key services from U.S. companies, which Russian Federation companies and Russian elites use to build wealth, generating revenue for Putin's war machine, and evade sanctions".
mk