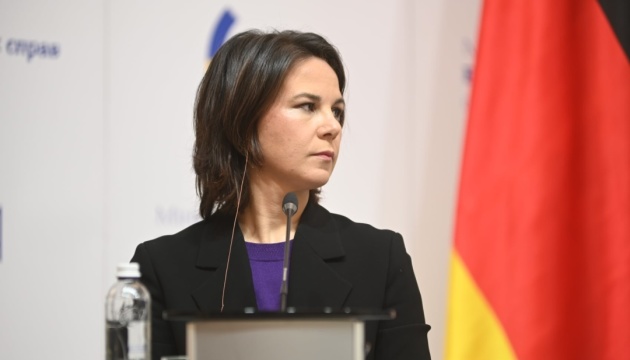 Germany to give up Russian oil by year end - Baerbock
Germany wants to end imports of Russian energy resources in the shortest possible time and already has a clear plan to cut off coal and oil imports from Russia.
German Foreign Minister Annalena Baerbock said this in Riga on April 20 after talks with her colleagues from the three Baltic states, according to an Ukrinform correspondent.
Baerbock stressed that security in Europe means getting rid of dependence on Russia, especially in energy policy.
"I state clearly that Germany will also completely give up imports of Russian energy resources, including imports of coal by the end of the summer. Oil imports will be halved by the summer and will be at zero by the end of the year," she said.
According to her, Germany will then end imports of natural gas according to a single European plan. The fact that the EU will completely cut off Russian gas imports will be a manifestation of the strength of the European community, Baerbock said.
She said she would prefer to get rid of gas dependence "better today than tomorrow." Baerbock acknowledged that it was in this area that Germany had "made mistakes in the past", including by increasing its dependence on Russia due to the construction of the Nord Stream 2 gas pipeline. However, now, in her opinion, it is necessary not to look for the culprits, but to draw the right conclusions as soon as possible and do what should have been done eight years ago - to give up Russian gas.
"Our European response to Putin's war of aggression must be to strengthen European sovereignty, and not just in matters of energy," she said.
On February 24, Russian President Vladimir Putin announced the beginning of a full-scale invasion of Ukraine. Russian troops have been shelling and destroying critical infrastructure and residential areas of Ukrainian cities, towns and villages using artillery, multiple rocket launchers, ballistic missiles, and air bombs.
The EU has imposed five packages of economic and individual sanctions on Russia and its officials and is preparing the sixth package of sectoral sanctions, which could cover Russian energy imports, including oil imports.