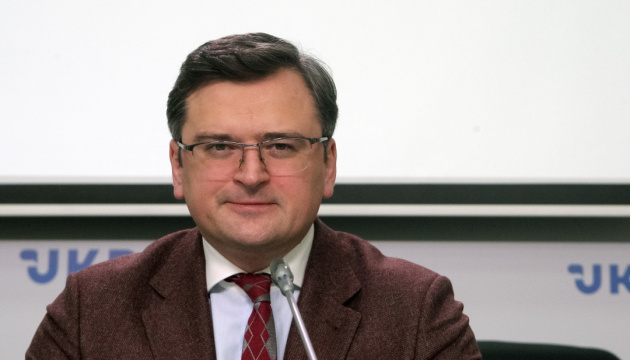 Kuleba outlines 10 blows inflicted on Russia's economy over past three days
Over the past three days, 10 new blows have been inflicted on Russia's economy and influence abroad.
"Here are 10 new blows on Russia's economy, financial system, trade and remnants of Russia's influence abroad inflicted in just these three days," Minister of Foreign Affairs of Ukraine Dmytro Kuleba posted on Facebook, Ukrinform reports.
In particular, according to him, the United States, Britain, the EU, and G7 completely banned all new investments in Russia.
At the same time, the US, the EU, and G7 imposed new sanctions on Russia's largest banks: Alfa Bank and Sberbank. "In general, the United States already blocked the two-thirds of Russian banking sector," the minister noted.
According to him, sanctions were imposed on Putin's daughters, Lavrov's daughter and wife, Russian prime minister Mishustin, former president Dmitry Medvedev, who recently wrote an article about how Russia plans to "change the consciousness" of the Ukrainian people by force of arms, and a number of members of Russia's security council.
In addition, Britain froze the assets of the Credit Bank of Moscow, imposed sanctions on oligarchs Rotenberg and Mikhelson. Eighteen EU countries expelled a total of 318 Russian "diplomats".
The Netherlands arrested 14 yachts belonging to Russian citizens, Denmark froze Russian citizens' assets worth $11.8 million, and the U.S. Treasury prohibited Russia from making debt payments with funds subject to U.S. jurisdiction.
"Today, for the first time, Russia was unable to make a payment in foreign currency and reached the finish line before default," Kuleba explained.
He also noted that the United States would impose full blocking sanctions on critical major Russian state-owned enterprises.
Ukraine's top diplomat also stressed that the draft of the 5th EU sanctions package managed to be made much stronger than planned.
"It was the most difficult wave of sanctions in terms of diplomatic work. But it is made. And it is powerful. Many of the new sanctions are exactly what Ukraine has been pressuring for, "the minister said.
As reported, more than half a hundred Russian banking institutions and enterprises, five tankers and dry cargo vessels, 25 representatives of the Russian "elite" were added to a new list of sanctions imposed by the U.S. Department of the Treasury on Wednesday.
ol