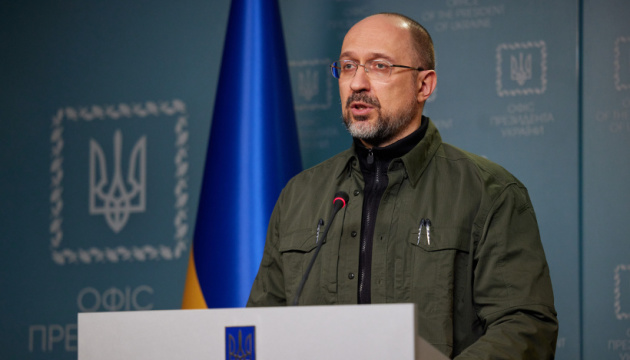 PM Shmyhal projects 35% Ukraine's GDP decline
This year, Ukraine's GDP may fall by 35% or even lower.
"As for GDP. We understand that situation in 10 regions is rather difficult. The enterprises, which accounted for about 50% of the country's GDP, are located there. At the beginning of the war, the IMF predicted a decline of about 10%. We see that now, when hostilities are ongoing and the first shock from the onset of the war has not passed, there is a fluctuation of 35% and a little bit higher, according to our estimates," Prime Minister of Ukraine Denys Shmyhal said in an interview with Interfax-Ukraine.
He added that everything would depend on the pace of recovery of the economy and business, on the export industries, in which Ukraine now shifts from maritime to rail supplies through Eastern Europe. All these factors will also have an impact on GDP.
Shmyhal noted that from the first days of the war, the Government put the economy on a war footing. Now all processes are optimized. The Prime Minister also called on businesses to start to work where it is possible to fill the budget, as the budget finances the country's defense.
"War cannot be won without the economy because it must provide for military needs, payment of social benefits, salaries, and ensure the functioning of the entire military industry," he said.
A new stage of the Russian-Ukrainian war began on February 24. Russian troops shell and destroy key infrastructure, massively fire on residential areas using artillery, MLRS, and ballistic missiles.
In Ukraine, more than 1,000 companies have decided to move from the temporarily occupied territories or territories where hostilities are taking place; more than 300 of them have already been relocated.
ol