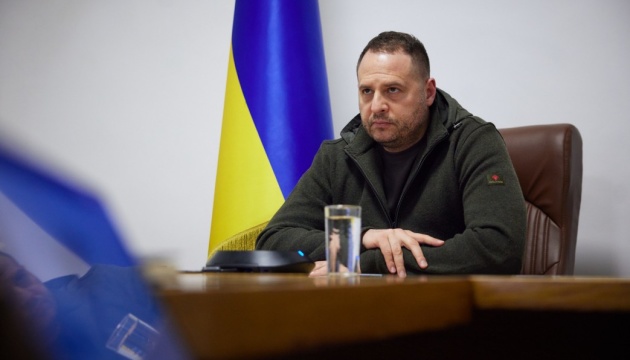 Yermak calls on international investors to buy Ukrainian war bonds
Head of the President's Office Andriy Yermak has called on international investors to buy Ukrainian war bonds and transfer their business from the territory of the aggressor country to Ukraine.
"I held an online conference with representatives of the world's leading investment companies attended by almost 300 representatives, including Goldman Sachs, Morgan Stanley, Franklin Templeton, and others. I told our international financial partners that the whole world saw that Ukraine would not surrender and would not give up its independence and territorial integrity," Yermak said at a briefing, streamed on Telegram account of the President's Office, Ukrinform reports.
Yermak added that he called on international business to invest in the purchase of war bonds issued by the Government of Ukraine.
"It is also important that responsible companies leaving Russia today refocus on Ukraine. I warned that there are no signs of default in Ukraine. This problem should bother the aggressor country," he said.
He added that the authorities were already thinking about how to rebuild our country. To this end, Ukraine plans to attract funds from international partners, as well as reparations and compensation to be paid by the Russian Federation for its aggression.
On February 24, Russian president Putin announced the beginning of a large-scale invasion of Ukraine. Russian troops shell and destroy infrastructure, massively fire on residential areas of Ukrainian cities and villages using artillery, multiple launch rocket systems, and ballistic missiles.
ol