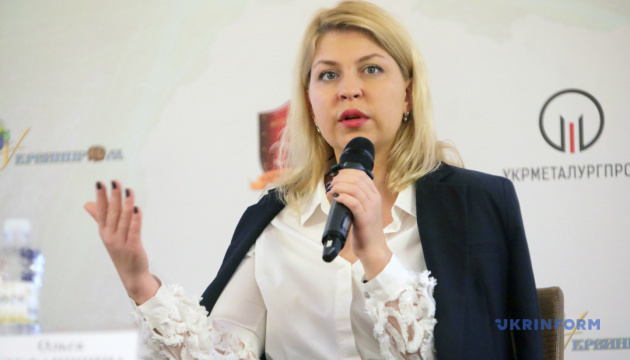 Vice PM: Escalation part of Russia's plot affecting Ukraine economy
Continued escalation without military invasion is also part of Russia's scenario, which has a strong impact on the Ukrainian economy and stability of the banking sector.
This was stated by Deputy Prime Minister for European and Euro-Atlantic Integration, Olha Stefanishyna, who spoke on the sidelines of an international symposium dedicated to the Babyn Yar tragedy, an Ukrinform correspondent reports.
"This is strongly reflected in the Ukrainian economy and requires massive financial involvement to ensure stability of the banking sector. In fact, the weekly investment in the banking system's stability is equal to all the military assistance that the United States has provided to Ukraine. Every week counts. Continued escalation benefits Russia more," she said.
Stefanishyna noted that the persistent escalation is a new reality that Russia is trying to make part of the agenda. At the same time, the deputy prime minister assured that the government is working on a number of the most probable scenarios and remains ready for a military one.
As Ukrinform reported earlier, Stefanishyna said earlier that the discussion on security guarantees should follow the withdrawal of Russian troops from Ukraine.
im