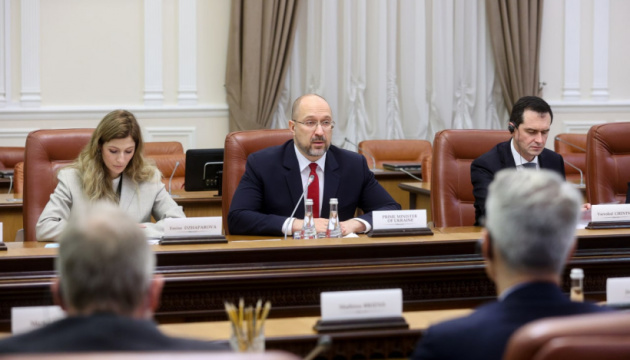 Ukraine will continue to implement important structural reforms with EU support - Shmyhal
Ukraine will continue to implement important structural reforms for the well-being of its citizens, with the support of the European Union, Prime Minister Denys Shmyhal has said.
He said this at a meeting with EU High Representative for Foreign Affairs and Security Policy Josep Borrell in Kyiv on Thursday, January 6, Ukrinform reports, citing the Ukrainian government portal.
"Among the reforms we have launched is the implementation of the European Green Deal policy. Ukraine has set an ambitious goal in this area. We are also continuing the reform of privatization and corporatization. 2022 should be a breakthrough year in the implementation of these reforms," Shmyhal said.
He noted that Ukraine already has a successful experience in implementing reforms, including decentralization and land reform. According to him, this experience will be used to implement other reforms.
He said that Ukraine is preparing for the next meeting of the EU-Ukraine Association Council, where it plans to summarize the work of the past year and discuss the implementation of decisions made at the 23rd Ukraine-EU Summit. The prime minister proposed holding the event in April this year. For his part, Borrell reaffirmed the EU's readiness to hold the next meeting in Brussels in April.
According to Shmyhal, the key areas of work within the Association Council for Ukraine, in particular, will be updating some annexes to the Association Agreement, measures to implement the European Green Deal, and joining the Single Euro Payments Area (SEPA), which will positively affect the development of the sphere of financial transactions.
"Against the background of gas shortages and high energy prices, security of energy supply must also remain our top priority in regional cooperation. In this area, we are working extremely actively and persistently to connect the Ukrainian energy system to the European network ENTSO-E," he said.
He added that Ukraine has so far met all the requirements of technical audits.
Another important point of work, according to the prime minister, is the launch of the sixth macro-financial assistance program.
"It is also important for us to start substantive negotiations on speeding up the liberalization of mutual trade in accordance with Article 29 of the Association Agreement and further progress in concluding ACAA agreements, or the so-called 'industrial visa-free regime'," Shmyhal said.
In addition, according to him, the parties should focus on finding ways to address the lack of permits for the transit of road transport.
In conclusion, Shmyhal thanked the European Union for its support and appreciation of the reform progress in Ukraine.
On January 4-6, Borrell is on his third visit to Ukraine at the invitation of Foreign Minister Dmytro Kuleba.
op