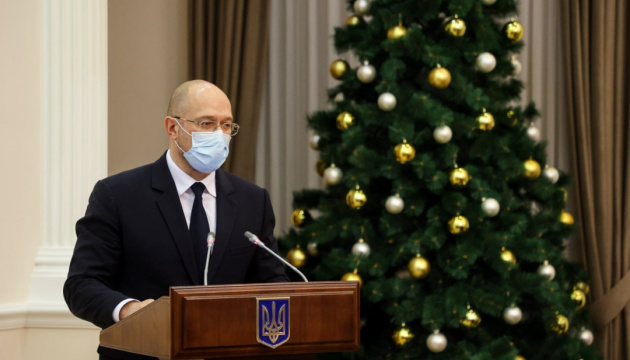 Vaccination, CAA agreement, GDP: Prime Minister sums up results of 2021
According to Prime Minister Denys Shmyhal, Ukraine saw many positive changes and reforms in 2021.
"Instead of traditional results of the week, today we sum up the results of 2021. There are many positive changes, programs, reforms, and results. There is something to be proud of, there is something to talk about," Shmyhal posted on Facebook on January 2.
In particular, according to him, one of the main tasks amid the pandemic was to support the most vulnerable segments of the population, so payments for various categories of retirees increased ten times over the year. "As a result, since December, the average pension in Ukraine reached almost UAH 4,000, and the minimum wage – UAH 6,500," the PM noted.
The Head of Government informed that Ukraine got fully provided with COVID-19 vaccines. There will be enough of them for the whole of 2022.
Among the achievements, he mentioned the systematic improvement of the health care system, a significant increase in spending on education, the digitalization of public services.
According to Shmyhal, the overall progress in the implementation of the EU-Ukraine Association Agreement in 2021 increased to 61%. In addition, Ukraine concluded the Common Aviation Area (CAA) agreement with the European Union.
The Prime Minister also stressed that Ukraine ended 2021 with all time high GDP in dollar terms – almost $200 billion. "For the first time over our independence, the average salary in Ukraine is $550. It has grown by more than 19% over the year," Shmyhal added.
He noted that in 2021, foreign investment hit the record of the past five years and totaled, according to the National Bank, almost $6.5 billion. The state budget in January–November was implemented by 104%, and its deficit for 11 months was only 1.4% of GDP. At the same time, the volume of exports in 2021 became the third-largest since 1996.
The Head of Government also mentioned the launch of the land market as a historic step.
Shmyhal also briefed on the anti-crisis programs to support the economy and business, which became an integral part of the government's economic policy in 2021.
"At the initiative of the President, we also launched programs of direct and targeted payments for small and medium-sized businesses in the total amount of UAH 15 billion," the Head of Government noted.
ol