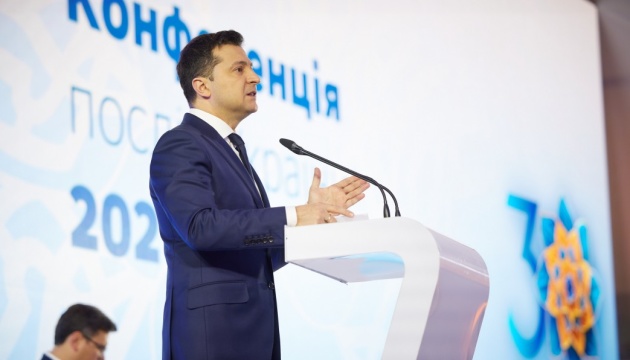 Zelensky: We have to expand free trade agreements with EU, Canada, Israel
President of Ukraine Volodymyr Zelensky points out the need to expand free trade agreements with the European Union, Canada, and Israel, and expects to sign FTA with Turkey early next year.
"More Ukrainian products should appear abroad every day, we have to expand FTA agreements with the EU, Canada, Israel. We are finalizing, I believe very much, the FTA with Turkey. I would like to do this early next year, when President Erdoğan will visit Ukraine," Zelensky said at the conference of heads of Ukraine's foreign diplomatic missions "Diplomacy 30. Strategy of Strong State", an Ukrinform correspondent reports.
He also underscored the need to move towards trade liberalization with the United States, Japan, and other promising international partners.
According to Zelensky, Ukraine does not use the potential of markets in India, China, Latin America, the Middle East, Africa. The President urged "to move away from standard approach and to constantly look for new opportunities."
"The result is measured not by the number of statements in support of our state, we are very grateful for them, but still, not by the number of posts on Facebook or Twitter, but by specific volumes of support, specific projects, facilities, investments. We need specifics! Less politics, more economy. Because, in the end, it is the economy and the common economic interest that strengthen the political partnership between the countries," the President said.
As reported, the conference of Ukrainian ambassadors to foreign countries "Diplomacy 30. Strategy of Strong State" is being held at the presidential residence "Syniohora" in the village of Huta, Ivano-Frankivsk region, on December 21-22.
ol