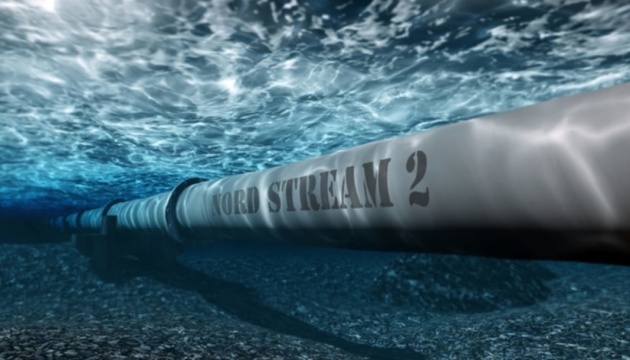 FM Kuleba: Ukraine, Britain oppose Nord Stream 2
Minister of Foreign Affairs of Ukraine Dmytro Kuleba held bilateral talks with UK Secretary of State for Foreign, Commonwealth and Development Affairs Liz Truss during his visit to London on December 8.
The talks became the third contact between the heads of Ukrainian and British diplomacy over the last two weeks, the Foreign Ministry's press service informs.
Kuleba briefed Truss on the current security situation along the state border of Ukraine and in the zone of the Russian-Ukrainian armed conflict, mass disinformation, and efforts of the Russian Federation to destabilize the internal situation in Ukraine.
"Russia has pulled more than 100,000 troops and a large number of weapons to the Ukrainian border and in the occupied territories. Russian authorities refuse to explain the movement of their troops, and Russia's official representatives threaten to destroy Ukraine. At the same time, Moscow blocks any progress in negotiations on the peaceful settlement within the Normandy format and the Trilateral Contact Group. We are working together with our partners to bring Russia back to the negotiating table," the minister said.
Truss reiterated the firm and principled position of the United Kingdom in support of Ukraine's sovereignty and territorial integrity. She said that London has already actively joined international efforts to develop and implement a comprehensive Ukraine-initiated package to deter Russia from further aggression.
The chief diplomats discussed in detail the steps to strengthen the defense capabilities of Ukraine, including the development of the Ukrainian Navy, enhancement of training of Ukrainian service members, and joint counteraction to disinformation.
Energy security was a separate topic of the talks. Kuleba and Truss agreed on a common position: Ukraine and Great Britain oppose the Nord Stream 2 gas pipeline, as this Russian geopolitical project is aimed at undermining the energy security of Ukraine and the whole of Europe.
Kuleba expressed Ukraine's interest in launching practical cooperation with the United Kingdom in the diversification of energy supply routes, in particular in the field of clean energy and hydrogen production.
The minister underscored the importance of making full use of the opportunities of the UK–Ukraine free trade area to increase trade and attract new British investment in the Ukrainian economy.
The Minister of Foreign Affairs of Ukraine also suggested ways to develop trade with the involvement of third countries.
Photo credit: mfa.gov.ua
ol