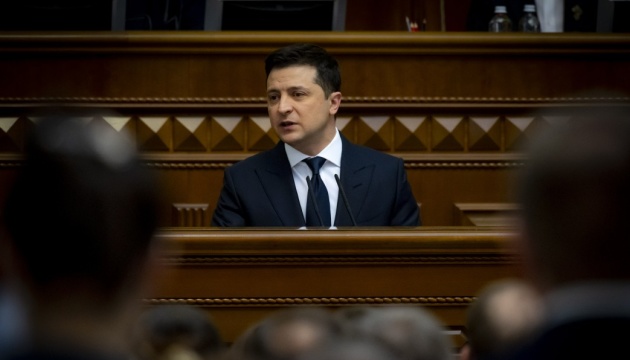 Zelensky submits bill on economic passport to Parliament
President Volodymyr Zelensky has submitted a bill on the economic passport to the Verkhovna Rada of Ukraine as evidenced by the data on the Parliament's website.
The text of the bill, identified by the President as urgent, has not yet been published. At the same time, it is noted in the section "Date and status" that the document was submitted to the leadership of the Parliament for consideration.
In addition, the President submitted to the Verkhovna Rada accompanying bills No. 6395 "On Amendments to the Budget Code of Ukraine on State Contributions to the Economic Passport System", No. 6396 "On Amendments to the Tax Code of Ukraine on Taxation of the Fund of Future Generations", and No. 6397 "On Amendments to the Code of Ukraine on Administrative Offenses, the Criminal Code of Ukraine on Liability for Violation of the Interests of the Participants in the Fund for Future Generations".
Zelensky identified the draft laws as urgent. The texts of the documents are also currently missing, but they have already been submitted to the Verkhovna Rada leadership for consideration.
On December 1, President Volodymyr Zelensky addressed the Verkhovna Rada on Ukraine's internal and external situation and stated that he would submit a bill on the economic passport. According to him, the document will stipulate that the fee for the use of subsoil will be accumulated on the personal accounts of children of Ukrainian citizens. Thus, upon reaching the age of majority, children will be able to use their savings to study in Ukraine or buy a real estate.
ol