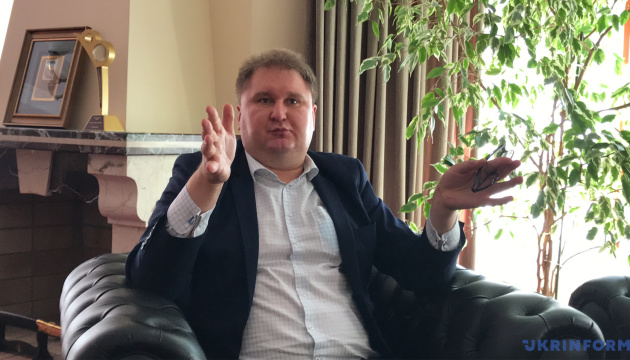 Ukraine can move to practical talks on ACAA agreement with EU next year - Kachka
Ukraine is in intensive contact with the EU in terms of assessing the country's regulatory and organizational readiness for an Agreement on Conformity Assessment and Acceptance of Industrial Products (ACAA) so Ukraine can move to practical talks with the EU on the parameters of the future agreement next year.
Taras Kachka, Deputy Minister of Economy and Ukraine's Trade Representative, said this in Brussels on Tuesday, November 23, following his talks with representatives of the European Commission. He was asked by Ukrinform when the EU will conclude its preliminary assessment mission as its second phase began in September this year.
"So far we have moved to the third phase, and there will be eight of them. When we talk about the industrial visa-free regime, this year, in fact, we have made great progress because these assessment missions have begun. […] This process is now very intensive, and next year we hope to move to -- if not the signing -- then the beginning of formal negotiations on the signing of the [ACAA] agreement," Kachka said.
He noted that for the first time in the past 15 years, the European Commission has conducted a comprehensive assessment of all Ukraine's achievements in the field of technical regulation, at the level of legislation, technical regulations and standards. The results of these inspections turned out to be good, and EU representatives had a certain positive impression.
"We are now moving dynamically in the assessment of individual sectors. The field of standardization and metrology has already been assessed. Early [next] year, we expect [the EU] to consider the sphere of conformity assessment and accreditation, i.e. how Ukrainian laboratories are inspected and are operating. That is, we are moving forward at a fairly active pace, and we have already started working on the implementation of the recommendations that were made earlier," he said.
He recalled that the conclusion of the ACAA agreement is very important for attracting and encouraging investment, for the location of production in Ukraine. This document recognizes that Ukraine is an industrialized country where products are made in accordance with EU standards both in terms of quality and in terms of quality control and safety of such products.
When asked by Ukrinform whether Ukraine's industry is sufficiently developed to withstand competition from EU producers, Kachka noted that the market for industrial goods in Ukraine is already almost completely liberalized.
"Today we have trade in industrial products, in fact, with zero duties. Only a few lines have a one percent duty, but it will disappear from January 1, 2022. That is, we have a fully liberalized trade in industrial goods. So everything that is being done now is in favor of exporting our products to the European Union. European products already have completely free access to our industrial market, both in terms of customs duties and in terms of technical regulation. This is the reality in which we have been living for 10-15 years," Kachka said.
The joint statement of the 23rd Ukraine-EU Summit in Kyiv notes Ukraine's achievements in the field of economy and prospects for its deeper integration into the EU's internal market. In particular, it notes progress in conducting EU assessment missions on Ukraine's infrastructure for control over the quality of industrial products, which should allow both parties to enter into formal negotiations on an ACAA agreement next year.
op