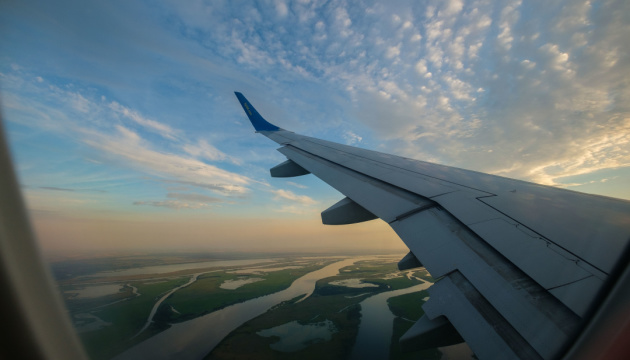 Ukraine, EU agree on next steps to implement Common Aviation Area Agreement
Ukraine and the EU have agreed on the next steps to implement the Common Aviation Area Agreement and touched upon the removal of trade barriers.
This was discussed during the meeting of Deputy Prime Minister for European and Euro-Atlantic Integration of Ukraine Olha Stefanishyna with European Commissioner for Transport Adina Vălean in Brussels, Ukrinform reports with reference to the Government portal.
The officials discussed Ukraine's implementation of the agreement provisions, the inclusion of Ukrainian rivers in the Trans-European Transport Network (TEN-T), as well as the issue of permits for Ukrainian road hauliers.
"The parties agreed on the next steps to fulfill the Common Aviation Area Agreement and confirmed their intention to work together on its timely implementation," the statement reads.
Stefanishyna drew special attention to the obstacles to the development of trade between Ukraine and the EU, which contradict the Association Agreement and the Free Trade Area, namely the issue of lack of permits for road haulage in Poland.
"Artificial restrictions in the form of road haulage permits hinder the development of trade, and we believe that this violates the provisions of the Association Agreement. It also creates a number of problems for our partners from France, Germany, Belgium, and the Netherlands, as Ukrainian carriers cannot fulfill their contractual obligations," said the Deputy Prime Minister.
She underscored the importance of removing trade barriers by improving interconnections between Ukraine and the EU, as well as non-discrimination in the provision of export and transit services.
Stefanishyna also stressed that the full operation of the Trans-European Transport Network is possible only if Ukrainian waterways are included in it.
"We expect that the Dnieper and Southern Bug rivers will become part of the TEN-T regional network. This transport network is extremely important for the development of a compatible rail network throughout the EU and Ukraine, as well as the connection of the railway with terminals on inland rivers, airports and relevant road points. All this will allow us to implement the European green agenda faster, redirecting the transportation of goods from roads to rail, rivers, and seas," she said.
The European Commissioner, in turn, spoke about the EU's plans to implement the EU's Sustainable and Smart Mobility Strategy, which provides for the transformation of the European transport system so that transport emissions are reduced by 90% by 2050.
In this context, the Deputy Prime Minister stressed Ukraine's readiness to cooperate with the EU in this area and to contribute to achieving the Strategy goals, in particular emphasizing Ukraine's potential in the development of multimodal transportation, inland water transport, and digital transformation.
ol