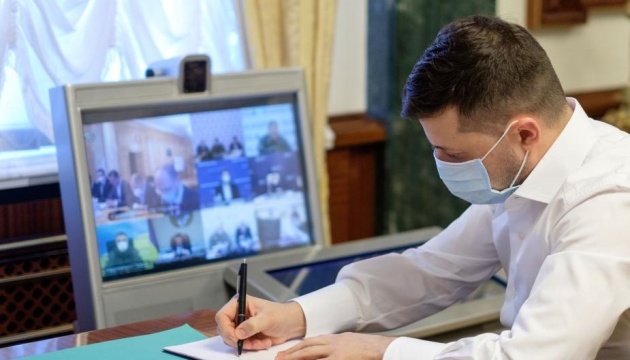 Zelensky signs amendments to 2021 budget, raising defense, social expenditures
President Volodymyr Zelensky has signed the law amending the country's State Budget 2021, passed by the Verkhovna Rada on October 8.
That's according to the President's Office, Ukrinform reports.
"Due to the projected overfulfillment of the state budget revenue by year-end, the Verkhovna Rada has increased funding for urgent needs, including social assistance, cash benefits to servicemen with the Armed Forces of Ukraine, and infrastructure projects," the statement said. .
Revenues and expenditures of the State Budget 2021 have been increased by UAH 39.6 billion. The increase in revenues is due to corporate income tax (by UAH 30 billion); VAT on goods (works, services) produced in Ukraine, taking into account budgetary refunds (by UAH 2 billion); VAT on goods imported into the customs territory of Ukraine (by UAH 6.9 billion); and fees collected from the acquisition of car ownership rights (by UAH 0.75 billion).
Additional revenues have been directed to address urgent social issues and implement major infrastructure projects. This includes UAH 12.05 billion to be allocated for benefits and housing and utility subsidies, while UAH 15 billion will be sent to develop a network of and maintain public roads of state significance.
Another UAH 4.1 billion is laid down for cash benefits to the military and UAH 2 billion – for the implementation of the government health care guarantees program.
In addition, UAH 1 billion will be utilized to cover wage arrears to Ukraine's miners.
Funds have also been provided for subventions to local budgets to pursue infrastructure projects, develop socio-cultural facilities, and implement measures toward socio-economic development of territories (UAH 1.5 billion and UAH 2.5 billion, respectively).
The subvention will allocate UAH 282 million and UAH 4 million, respectively, to local budgets for monetary compensation for housing to internally displaced persons who took part in the Anti-Terrorist Operation and participants in the Revolution of Dignity.
As Ukrinform reported earlier, on September 15, the Draft Law On the State Budget of Ukraine for 2022 was tabled in the Verkhovna Rada. The projected nominal GDP by the end of next year is set at UAH 5,368.7 billion. It is estimated to grow by 3.8% against 2021 (a record rate for the last decade). Expected budget revenues stand at UAH 1,277.7 billion (plus UAH 161.7 billion on year), expenditures are set at UAH 1,465.7 billion (plus UAH 103 billion), while the budget deficit is laid down at UAH 188 billion. Thus, the budget deficit shall be reduced to 3.5% against 5.5% in 2021.
Until October 1, deputies had the opportunity to submit amendments and proposals to the bill.
im