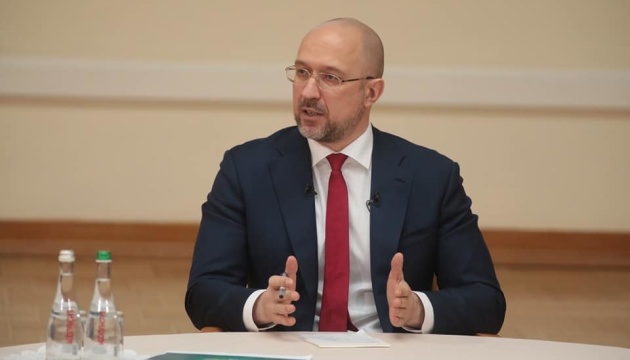 Only new lockdown could prevent GDP from growing by 4% this year – PM Shmyhal
Prime Minister Denys Shmyhal expects Ukraine's GDP will grow by 4% this year, and only a new wave of coronavirus and following imposition of quarantine restrictions could prevent that.
"We expect this year's GDP growth will total about 4%, which will mean that Ukraine has recovered from the economic downturn due to the coronavirus crisis. The only thing that could prevent this scenario is another strong wave of coronavirus, which will lead to imposition of additional quarantine restrictions," Shmyhal wrote on his Facebook page, Ukrinform reports.
At the same time, he listed the main factors contributing to the economic growth in Ukraine.
In particular, according to Shmyhal, this is a steadily growing consumer demand. "In 2021, retail trade has already increased by about 13%. This remains one of the factors in the positive dynamics of GDP. Ukrainians continue to consume actively, and this is moving the economy forward. For the first time in the history of [Ukraine's] independence, the average salary exceeded $500," he wrote.
The prime minister also announced an increase in investment and growth in the agriculture sector. In addition, according to Shmyhal, over the first eight months, the construction sector showed growth of almost 2%.
Important industries, including mechanical engineering, metallurgy and the chemical industry, are also growing. The first two sectors have increase by more than 7% this year, the prime minister stressed.
As reported, on October 6, the World Bank left the forecast for Ukraine's GDP growth in 2021 at 3.8%, but improved it for the next two years. According to the organization's forecasts, Ukraine's GDP will grow by 3.5% in 2022 and by 3.7% in 2023.
iy