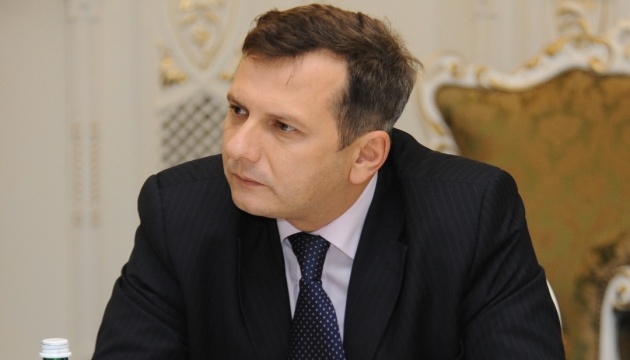 Providing Ukraine with new IMF tranche to be discussed in Sept – Ustenko
In autumn, Ukraine makes a number of payments on its external debt, while its gold and foreign exchange reserves are full.
Oleh Ustenko, the Ukrainian president's economic adviser, said this on the air of Dom TV channel, Ukrinform reports.
"Gold and foreign exchange reserves are full - they contain more than USD 30 billion. This is actually over five months, almost six months of our critical imports, which is twice the norm necessary for us to say that the country is in a stable financial situation in terms of external payments," Ustenko stressed.
According to him, Ukraine's September payments can be called large-scale, but there is no reason for concern.
He also stressed that Ukraine will raise the possibility of receiving new funds from the IMF during the visit of the IMF mission to Kyiv, which is expected this month.
"As for the new possible funds that we should receive from the International Monetary Fund, you remember that there was a more than successful conversation between President Zelensky and IMF Managing Director Kristalina Georgieva. An agreement was reached: in September, literally in the coming days, we expect the IMF mission to arrive in Kyiv," Ustenko said.
In this context, he emphasized that Ukraine, in fulfillment of its obligations, strengthens the independence of the National Bank and intensifies efforts in the fight against corruption. The relevant initiatives will soon be considered by the parliament.
Ustenko noted that during the visit of the IMF mission to Kyiv, the issue of granting the next tranche will be brought up at a meeting of the Board of Directors.
"We believe that everything has been done on our part. The IMF mission will be in Kyiv, and we can raise the issue of Ukraine at a meeting of the Board of Directors. We also expect EUR 600 million - what is known as macro-financial assistance from the European Union - until September 14," the president's adviser said.
As reported, Minister of Finance of Ukraine Serhiy Marchenko suggested that the current 18-month Stand-By Arrangement (SBA) with the International Monetary Fund (IMF) could be extended for six months.
On June 9, 2020, the IMF approved a new 18-month SBA for Ukraine worth about USD 5 billion with the immediate disbursement of USD 2.1 billion as the first tranche.
The virtual mission for the first revision of the SBA ended in mid-February with no recommendation for a second tranche.
ish