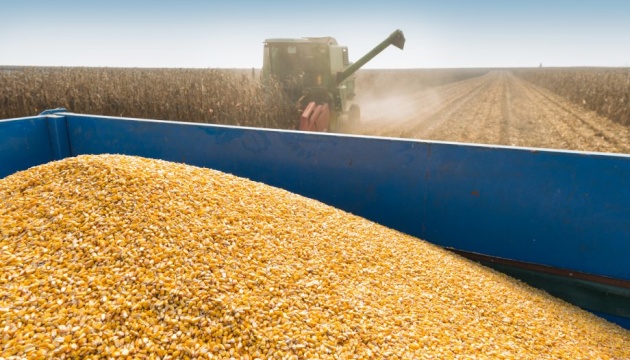 Almost 40 mln tonnes of grain harvested in Ukraine
In Ukraine, cereals and legumes were harvested on an area of ​​9 million hectares (56% of the forecast) with a yield of 44.1 c/ha, while 39.5 million tonnes of grain was threshed as of August 12.
That's according to the Ministry of Agrarian Policy and Food, Ukrinform reports.
Wheat was threshed on 6.2 million hectares (88% of the forecast) with a yield of 46 c/ha, of which 28.7 million tonnes were threshed. In four regions, farmers have already completed their wheat harvesting campaign.
Barley was harvested from almost 2.3 million hectares (92% of the forecast) with a yield of 41.6 c/ha, while 9.4 million tonnes have already been threshed. Barley harvesting is finished in six regions.
Pea was harvested on 232,000 hectares (96% of the forecast) with a yield of 23.3 c/ha, while 542,000 tonnes were threshed. The pea harvesting campaign is over in 18 regions.
Throughout the past week alone, 7.3 million tonnes of grains were threshed.
According to the ministry, agricultural producers in Mykolaiv, Kherson, and Poltava regions have completely finished harvesting early grains, legumes, and rapeseed.
Farmers in Dnipropetrovsk (3.029 million tonnes), Zaporizhzhya (3.02 million tonnes), Mykolaiv (3.248 million tonnes), Odesa (3.61 million tonnes), Kharkiv (3.369 million tonnes), and Kherson (3.104 million tonnes) regions have threshed over 3 million tonnes of grains.
More than 2 million tonnes of grain is on account of farmers in Vinnytsia (2.265 million tonnes) and Kirovohrad (2.204 million tonnes) regions.
The leaders in grain yield are agricultural producers of Khmelnytsky region, with 1.4 c/ha.
At the same time, in Vinnytsia, Volyn, Zhytomyr, Ivano-Frankivsk, Kyiv, Lviv, Ternopil, and Cherkasy regions, agri companies boast of higher than 50 c/ha average yields of grains and legumes.
The Ministry of Agrarian Policy also provided data on rapeseed harvesting. The crop was harvested on an area of ​​950,000 hectares (94% of the forecast) with a yield of 27.5 c/ha, with over 2.6 million tonnes threshed (516,000 tonnes more against last week).
Agricultural producers in nine regions have completed rapeseed harvesting, with the highest recorded in Khmelnytsky (34.9 c/ha) and Ivano-Frankivsk (34.8 c/ha) regions.
As Ukrinform reported earlier, as of August 5, Ukrainian farmers had harvested early grains and legumes from 46% of the projected area, having threshed over 32.2 million tonnes of grains.
im