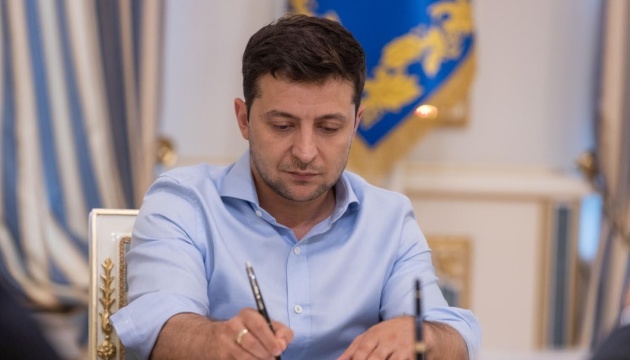 President approves Ukraine's economic security strategy
Ukrainian President Volodymyr Zelensky has enacted the National Security and Defense Council's decision on Ukraine's economic security strategy until 2025, the President's Office has reported.
Zelensky signed Decree No. 347/2021 "On the decision of the National Security and Defense Council of Ukraine of August 11, 2021 'On the Economic Security Strategy of Ukraine until 2025.'"
"The Strategy states that the national interests of Ukraine are the sustainable development of the domestic economy, the country's integration into the European economic area and the development of equal mutually beneficial economic cooperation with other states," the report reads.
According to the document, the strategic course in the field of ensuring economic security has two interrelated areas: development and security.
In the security area, the challenges related to Russia's armed aggression and the temporary occupation of part of Ukrainian territory play an important role.
The strategy states that the destruction of Ukraine's economy is a conscious and purposeful action of the Russian Federation and one of the methods of hybrid warfare, as the destroyed economy produces dissatisfaction with the government's actions, labor migration, social tension and undermines trust in authorities. At the same time, economic instruments of influence are widely used, including sanctions against Ukrainian goods and services and the use of influence on other states so that they make decisions that are contrary to the main national economic interests of Ukraine.
The strategy also takes into account the main challenges and threats in the areas of economic, financial, production, foreign economic, investment, innovation and macroeconomic security of the state.
Among the tasks are ensuring resilience from external and internal challenges and threats, maintaining and developing the country's economic power, as well as guaranteeing Ukraine's economic independence and ability to protect national economic interests, including in the high-tech sphere.
The strategy envisages compliance with critical limits and targets in the main components of the country's economic security. The level of these critical limits should be constantly monitored and decisions that would lead to economic security indicators going beyond these limits should not be allowed.
The implementation of the strategy should result in the creation of a stable, competitive, socially responsible market economy and conditions for the advanced development of scientific and technological potential of the country, sustainable growth of national wealth and factors of production, achieving the goals of Ukraine's sustainable development for the period up to 2030, the standard of living of the population inherent in economically developed countries.
"Ukraine must occupy a place in the world division of labor that corresponds to its natural, labor and intellectual resources, economic and geopolitical potential," the report said.
op