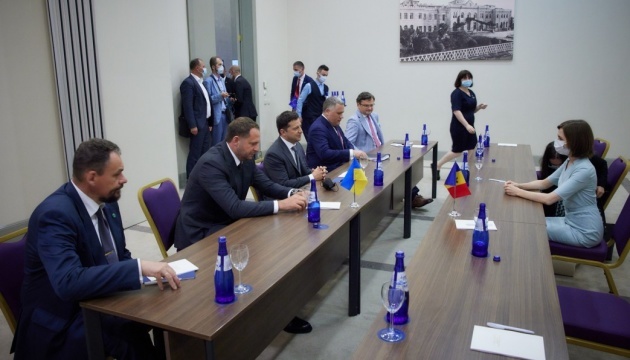 Zelensky, Sandu discuss trade and energy cooperation
During a visit to Georgia, President of Ukraine Volodymyr Zelensky discussed the priority steps to intensify trade and economic cooperation with President of the Republic of Moldova Maia Sandu.
"The President congratulated Maia Sandu on the victory of the pro-European democratic forces in the parliamentary elections in Moldova and wished his Moldovan counterpart success in forming an efficient government," the website of the Head of State informs.
The parties discussed priority steps to intensify trade and economic cooperation, setting the cooperation in the field of energy and the implementation of joint infrastructure projects as key areas of economic interaction between the two countries.
"Successful implementation of such bilateral and multilateral projects should become an important step towards strengthening the diversification and energy independence of both countries," said the President of Ukraine.
Particular attention was also paid to the development of the transport and transit potential of Ukraine and the Republic of Moldova. The parties agreed on the need to accelerate the implementation of the flagship project in this area – the construction of a border bridge over the Dniester River near the settlements of Yampil and Cosăuți.
Zelensky informed Sandu about the main tasks and modalities of the Crimea Platform, reaffirming his invitation to his Moldovan counterpart to take part in the founding summit of this international initiative, as well as in ceremonial events marking the 30th anniversary of Ukraine's independence.
As reported, President Volodymyr Zelensky made a working visit to Georgia on Monday. During the visit, the leaders of Ukraine, Georgia, and Moldova established the Associated Trio format and signed the Batumi Summit Declaration. The document states that joining the EU is a goal that unites the three countries, and European integration has no alternative for these countries.
On May 17, the foreign ministers of Ukraine, Georgia, and Moldova signed a memorandum on the establishment of the Associated Trio for the joint successful European integration of the three countries.
Photo credit: president.gov.ua
оl