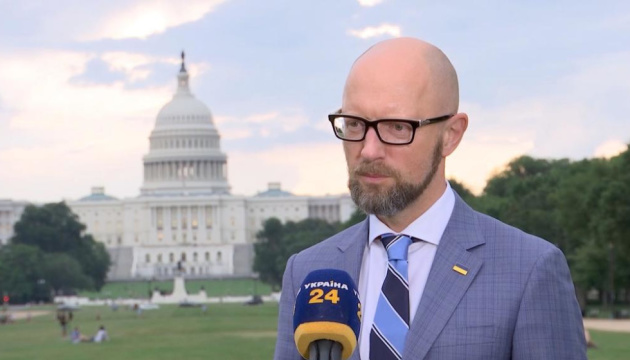 Yatsenyuk: Nord Stream 2 is a project against Ukraine, EU, US, entire energy market
Russia's Nord Stream 2 project is a "bad deal" and a real threat not only to the EU and Ukraine, but also to the United States and the energy market as a whole, former Ukrainian Prime Minister Arseniy Yatsenyuk has said.
He stated this at the Atlantic Council in Washington on Wednesday, July 14, according to an Ukrinform correspondent.
"This is a completely anti-Ukrainian, anti-European, anti-American and, I would say, anti-market project. This project has to be stopped," Yatsenyuk said.
He noted that he was in Washington for meetings to "promote Ukraine's interests."
Yatsenyuk said that Nord Stream 2 was an anti-Ukrainian project, as Ukraine will lose $2 billion per year in transit fees. He said that this was practically equal to the amount of the IMF program for Ukraine, as in ten years this will be $20 billion. In addition, according to him, there are serious threats to Ukraine's security in the face of Russia's ongoing aggression.
"This is an anti-European project, and let me emphasize again, anti-European does not mean anti-German. Russia will gain leverage over the energy market of the European Union," Yatsenyuk said.
He stressed that Nord Stream 2 was also an anti-American project. "The United States is to lose an additional share of the market for natural gas, which is transported from the United States to the European Union," Yatsenyuk said.
According to him, it is obvious that it is better for the EU to have a partnership with the United States than with Russia, because it is important how to diversify supplies.
Nord Stream 2 is also an additional tool for Russia to influence the energy market, he said. In this regard, he noted a spike in gas prices in the European market over the past two weeks. According to him, this was partly the result of Russia's manipulations.
In addition, Yatsenyuk said, Germany's arguments that Nord Stream 2 is not a political but an economic project are untrue, as "the gas transit route through Ukraine is better and cheaper." In addition, he said, the loss of transit opportunities also puts Poland and Slovakia at risk.
"Can someone tell me the reason why the Europeans, I mean Germans, decided to accomplish this construction?" he said. He stressed that there was no such reason unless it is about some behind-the-scenes arrangements.
Yatsenyuk noted that the Ukrainian side does not have the tools to stop this project, so it appeals to the international community. "But it is in the interests of the United States and Europe to stop [this project]," the Ukrainian politician said.
op