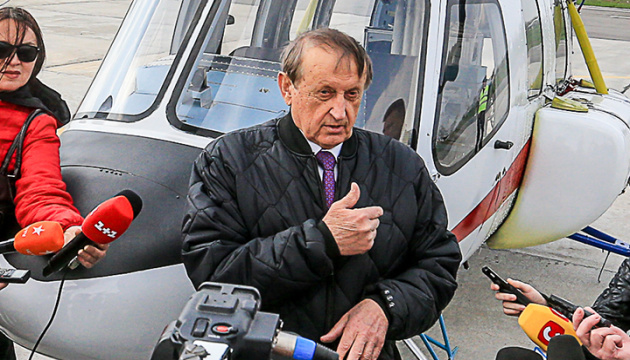 Motor Sich case: $100 million should be repaid to Chinese investors
Director General of Motor Sich Vyacheslav Bohuslayev says that $100 million, which he borrowed, should be repaid to Chinese investors by 2026.
"The 'Chinese problem' is on the Foreign Minister's table. It is not my problem. I have one problem: to repay the debt. We got a $100 million loan from China and it needs to be repaid in 2026. I have no other relations with the Chinese. What they violated there, what they failed under the previous president Petro Poroshenko – may the relevant bodies deal with it. I have nothing to do with it," Bohuslayev said in an interview with Ukrinform.
He also noted that he supported the President in the need to adopt a law on relations with investors and managers of enterprises of defense significance.
As Bohuslayev noted, he continues to manage the company together with the board of directors and the supervisory board.
As reported, on March 24, President Zelensky enacted the decision by Ukraine's National Security and Defense Council to return the Motor Sich enterprise to state ownership adopted on March 11.
Earlier, Ukraine imposed three-year restrictive measures on Chinese citizen Jing Wang and three Chinese-based companies. The sanctions also targeted a company from the British Virgin Islands.
In January, the U.S. Department of Commerce imposed sanctions on China's Skyrizon Aircraft Holdings Limited, an investor in Ukraine's Motor Sich. Commerce Secretary Wilbur Ross said the United States wanted to warn exporters that Skyrizon had close ties to the Chinese army.
On August 6 last year, the Antimonopoly Committee of Ukraine announced that it would assess the sale of Motor Sich for compliance with competition law.
On September 4, 2020, Chinese investors in Motor Sich submitted a Notice of Investment Dispute to the Ukrainian Justice Ministry regarding their intention to apply to an international arbitration court to recover $3.5 billion in losses from Ukraine. The working group on pre-arbitration settlement also includes a representative of the Antimonopoly Committee of Ukraine.
It emerged in November that Chinese investors in Motor Sich had hired three law firms for the $3.5 billion lawsuit against Ukraine.
ol