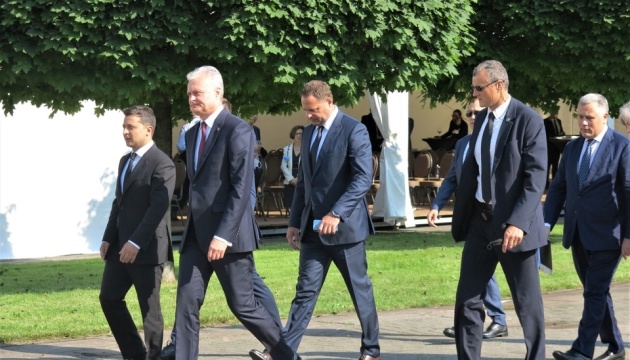 Zelensky says Ukraine open to Belarusian IT specialists
Ukrainian President Volodymyr Zelensky has said that Ukraine's support for "Belarusian friends" remains unchanged, and talked, in particular, about measures to support Belarusian IT specialists who have decided to move to Ukraine.
He said this at a joint press conference with Lithuanian President Gitanas Nauseda in Vilnius on Wednesday, July 7, according to an Ukrinform correspondent.
"We always support our Belarusian friends. [...] Our ministry of digitalization deals with infrastructure. We invite key companies. Belarusian IT specialists contacted us, they came to us. [..] Our Minister [of Digital Transformation of Ukraine] Mykhailo Fedorov is personally engaged in this issue. He contacts companies," Zelensky said.
At the same time, he stressed that Ukraine, "first of all, wants everything to be fine in Belarus." "We are glad to see them [Belarusian IT specialists]. But we want them to develop their country. But if this is the case and people want to come [to Ukraine], we are open to everyone," Zelensky said.
Mass protests have been going on in Belarus since August 2020 against the rigging of the results of the presidential election in which Alexander Lukashenko was declared the winner. The regime has brutally cracked down on protesters by resorting to mass arrests. The legitimacy of the Lukashenko regime has not been recognized by the EU, the United States, Ukraine and most democracies around the world.
Back in October last year, Zelensky signed a decree on some measures to attract entrepreneurs, highly qualified professionals who are citizens of the Republic of Belarus. The document is designed to promote the development of Ukraine's investment potential and attract highly qualified IT professionals and innovators.
Zelensky is on a visit to Lithuania on July 6-7, where he is taking part in the Ukraine Reform Conference.
The Ukraine Reform Conference was launched in London in 2017 as a format for uniting the efforts of partners and friends of Ukraine. The participants in the forum discuss the situation in the country and assess democratic transformations and reforms that have been conducted since 2014. The conference was then convened in Copenhagen in 2018 and in Toronto in 2019.
op