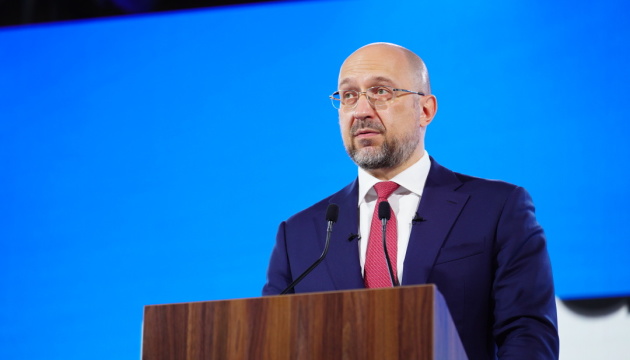 Shmyhal expects increase in local budget revenues thanks to land reform
Revenues to local budgets from the effective management of land resources transferred to communities may increase significantly, Ukrainian Prime Minister Denys Shmyhal has said.
He stated this in his speech at the All-Ukrainian Forum "Ukraine 30. Land" in Kyiv on Tuesday, according to an Ukrinform correspondent.
"As of today, the average rent for public land is about 7%. The successful experience of land auctions in previous years shows that the average rate after such auctions can be 18% of the regulatory and monetary valuation of land. That is, the potential for an increase in revenues to local budgets from the effective management of land resources transferred to communities is up to UAH 12 billion," Shmyhal said.
According to him, it is the local authorities that will be responsible for documentation and urban planning within a settlement. The transfer of these functions of the State Service of Ukraine for Geodesy, Cartography and Cadaster to the local level will ensure the sustainable development of both the agricultural sector and Ukrainian villages in general. Any rent will go exclusively through transparent auctions, which will help avoid corruption risks. Communities have been empowered to independently organize and receive maximum revenues from their budgets, which is also critical for them," Shmyhal said.
"Land reform is, first and foremost, about restoring historical justice, stimulating agricultural development. It's about decentralization and increasing the role of communities in making important decisions. The launch of the land market will allow the Ukrainian agricultural sector to become a real driver of economic development," he said.
Earlier, President Volodymyr Zelensky signed a law amending the Land Code of Ukraine and other legislative acts to improve the system of management and deregulation in the field of land relations.
op