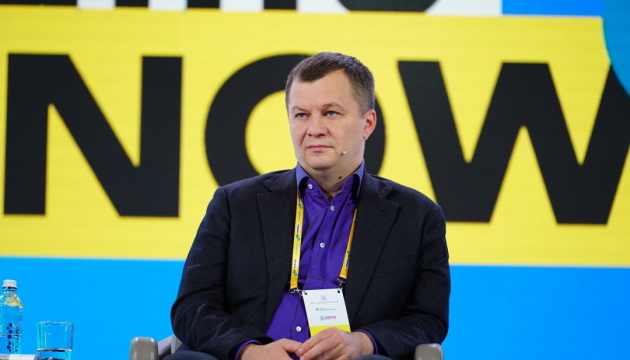 Land reform will increase Ukraine's GDP by 1.5% - Mylovanov
Land reform will increase Ukraine's gross domestic product by 1.5%, according to Tymofiy Mylovanov, an adviser to the head of the President's Office.
He stated this at the All-Ukrainian Forum "Ukraine 30. Land" in Kyiv on Monday, May 24, an Ukrinform correspondent reported.
"According to the calculations of the Kyiv School of Economics, the implementation of land reform will add about $2 billion to GDP, i.e. about 1.5%, in the next few years. And most importantly, it will allow landowners to receive funding secured by this land officially, rather than under gray schemes," Mylovanov said.
He noted that this would help increase productivity on the land.
In February 2021, Ukrainian President Volodymyr Zelensky launched a series of 30 large-scale weekly forums in the format of a dialogue with the public on vital issues for the country. The forum "Ukraine 30. Land," dedicated to the launch of the land market in Ukraine, began on May 24 and will last until May 26, 2021.
During his speech at the Ukraine 30. Zemlya forum, Zelensky signed a law amending the Land Code of Ukraine and other legislative acts to improve the system of management and deregulation in the field of land relations. A respective bill (No. 2194) was adopted by the Verkhovna Rada on April 28.
op