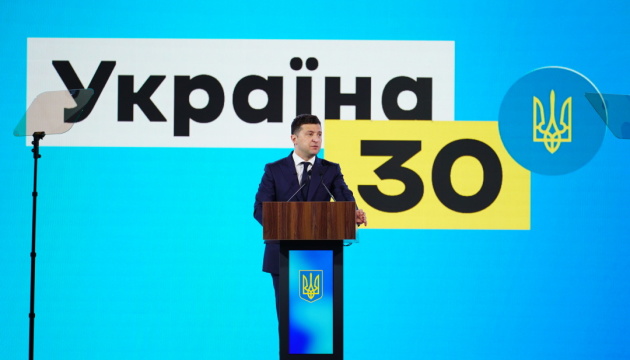 Zelensky: Lands as large as two Crimean peninsulas stolen from state over years of sale moratorium
Over the years of moratorium on the sale of agricultural lands in Ukraine, state lands as large as two Crimean peninsulas were stolen.
"In 2014, Russia annexed the Crimean Peninsula which belonged to our state. Over the years of the moratorium [on sale of agricultural lands], some politicians and business people stole from the state the lands as large as two Crimean peninsulas. Of course, we will do everything to return both," President of Ukraine Volodymyr Zelensky said at the Forum "Ukraine 30. Land", an Ukrinform correspondent reports.
In addition, he said, almost 1 million landowners died over the years of moratorium, and the cost of a hectare of agricultural land became the lowest in Europe.
"The former parliaments were unable not only to carry out land reform but also to start discussing the relevant laws. Instead, they managed, in my opinion, something else – they actually formed an offshore area of ​​more than 8 million hectares inside the country," the President is convinced.
He explained that it was a grey shadow market where "it was easy to buy land, very easy to sell, harvest and earn millions without paying any taxes, providing official employment or social guarantees to people."
Zelensky added that, according to preliminary estimates, about 5 million hectares of state land in Ukraine had been illegally appropriated.
On March 31, 2020, the Verkhovna Rada of Ukraine passed the Law of Ukraine "On Amendments to Certain Legislative Acts of Ukraine Concerning the Circulation of Agricultural Land". On April 28, President Volodymyr Zelensky signed the law.
The document stipulates that the moratorium on the sale of agricultural land, except for state-owned land, will be lifted from July 2021. Citizens of Ukraine, territorial communities, and the state may acquire the right of ownership of agricultural land plots.
ol