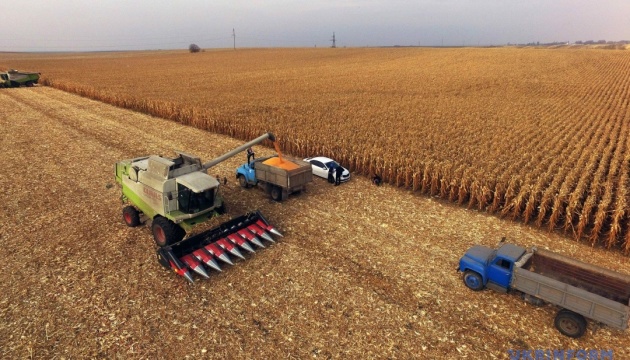 Environmental Protection Ministry: Ukraine's agriculture should become climate-oriented
Agriculture in Ukraine should become climate-oriented and take into account the components of environmental protection and climate change.
Deputy Minister of Environmental Protection and Natural Resources of Ukraine Iryna Stavchuk made a corresponding statement at the launch of IFC's Climate Smart Agriculture Finance Project which plans to attract financial support from partner banks in the amount of $5 million and help reduce greenhouse gas emissions by 2,000 tonnes by the end of 2021.
"Maintaining food security and developing the country's economy must take into account the components of environmental protection and climate change. After all, the share of agriculture in greenhouse gas emissions is 92 million tonnes which equals emissions from the entire energy sector, including heat, electricity and transport. It is disappointing that emissions from the use of fields and pastures have increased over 30 years and have already exceeded the rate of CO2 absorption by Ukrainian forests," Stavchuk said.
According to the deputy minister, agriculture also experiences an impact of climate change, so adaptation measures should be taken. To this end, Ukraine jointly with the World Bank completes the research on modeling climate change in Ukraine and its implications for agriculture. This will help farmers better plan agricultural activities to take climate change into account.
As soon as the Framework Strategy for Adaptation to Climate Change is approved, Ukraine will develop sectoral adaptation plans, which will take into account the vulnerability of agriculture and plan adaptation measures.
"Ukrainian agriculture plays an important role in Europe's food security. That's why IFC is launching a new project to increase funding and adapt Ukraine's agricultural sector to climate change. Floods, droughts affect agricultural output, farmers' incomes and economic growth. Our goal is sustainable agriculture, which has an investment potential of $11 billion in Ukraine," said Jason Pellmar, IFC's Regional Manager for Ukraine, Belarus and Moldova.
According to the event participants, the main problems of the Ukrainian agricultural sector that affect the environment are the uncontrolled use of synthetic and low-quality fertilizers and improper farming which disturbs the ecosystem balance.
ol