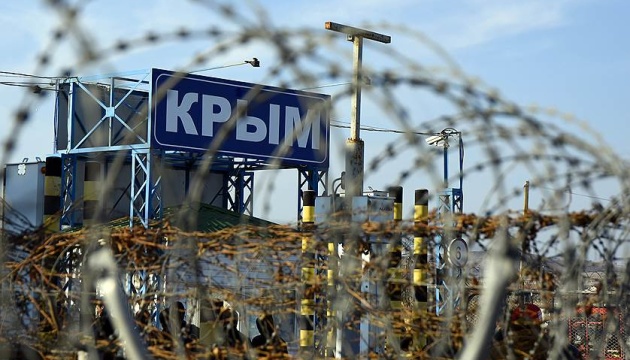 Ukraine loses half of its natural gas deposits due to occupation of Crimea
Due to the temporary occupation of Crimea by the Russian Federation, Ukraine has lost the opportunity to exploit the Scythian section of the Black Sea shelf, where gas production was to begin in 2017.
"Shortly before the occupation, agreements were signed in the United States on the distribution of products, on the exploitation of the Scythian section of the Black Sea shelf, which is located near the Crimean Peninsula, outside the city of Sevastopol. This project could have started in 2017 and would be very successful and very correct from the perspective that Ukraine would increase its own natural gas production," Permanent Representative of the President of Ukraine to the Autonomous Republic of Crimea Anton Korynevych said at the All-Ukrainian Forum "Ukraine 30. Public Utility Bill" on February 15, an Ukrinform correspondent reported.
Korynevych stressed that, according to various data, out of all natural gas available in Ukraine, about half of its deposits are on the continental shelf of the Black Sea and the Sea of Azov. Due to the occupation, Ukraine cannot exploit these resources, which has a negative impact on the energy security of both our country and Europe as a whole, the official stated.
The President's representative reminded that after the occupation Russia stole Chornomornaftogaz from Ukraine, a state-owned company owned by Naftogaz of Ukraine, which includes a coastal production base for offshore works, a technological fleet, 10 offshore gas production platforms, 4 self-elevating drilling rigs, gas transmission system of the Autonomous Republic of Crimea and the city of Sevastopol, Hlibovka underground gas storage, and much more.
In addition to oil and gas equipment, Russia seized solar and wind power plants, which were among the most powerful in Europe and the world and provided up to 30% of Crimea's electricity generation, he added.
Currently, the official reminded, Ukraine is filing lawsuits at various international courts.
"In particular, we filed a lawsuit against Russia under the investment protection agreement at the Permanent Court of Arbitration in The Hague, a lawsuit of Naftogaz against Gazprom at the Arbitration Institute of the Stockholm Chamber of Commerce, and others. We know that certain judgments have already been delivered, and Gazprom must pay Naftogaz $2.5 billion. Other trials are underway," Korynevych said.
As reported, the Prosecutor General's Office estimated the damages from Russia's temporary occupation of Crimea at UAH 1 trillion.
Russia started the armed aggression against Ukraine on February 20, 2014 by seizing part of Ukraine's territory - the Crimean Peninsula.
On March 16, 2014, so-called "referendum on the status of Crimea" was held on the territory of Crimea and Sevastopol. In two days, on March 18, 2014, the so-called agreement on the accession of the Republic of Crimea to the Russian Federation was signed at the Kremlin.
Most UN member states and other international organizations declared the Crimean referendum falsified by the occupiers illegitimate.
ol