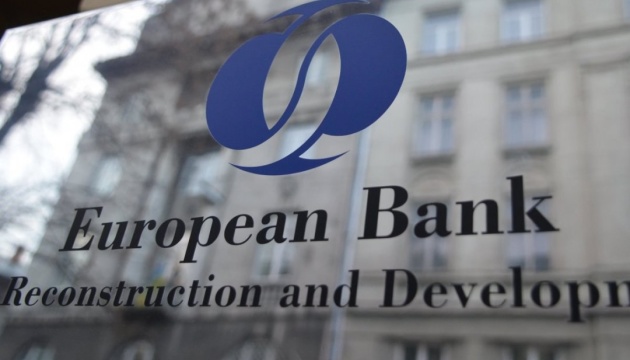 EBRD's project portfolio in Ukraine this year amounted to EUR 730M - Zelensky
The total portfolio of projects of the European Bank for Reconstruction and Development (EBRD) in Ukraine this year amounted to EUR 730 million and may reach EUR 900 million by January 2021, according to Ukrainian President Volodymyr Zelensky.
He said this in a phone call with EBRD President Odile Renaud-Basso, the press service of the head of state reported.
"As far as I know, the bank's portfolio project this year has already amounted to 730 million euros, and this amount may reach 900 million euros by the end of the year. We are very glad that especially during the global economic crisis caused by the COVID-19 pandemic, the bank has continued to actively invest in Ukraine and provide support to Ukrainian business," Zelensky said.
He said that despite the crisis, the Ukrainian banking system is stable and the budget is being fulfilled.
According to the president, a mission of the International Monetary Fund is starting its work in Ukraine on December 21, and another tranche of a loan is to be received in early 2021 as part of a Stand-By Arrangement.
The parties also discussed the course of reforms in Ukraine.
"This year we passed a law on the land market, launched a reform of the tax and customs services, signed the first concession agreements, and are actively carrying out 'small-scale' privatization and digitalization of all public services," Zelensky said.
In addition, he said that the leadership of the Ukrainian state was making daily efforts to overcome the constitutional crisis, working closely with the Venice Commission, and progress in this area is quite fast.
He stated that the functioning of electronic declaration of assets had been reinstated and a law on resuming the full operation of the National Agency on Corruption Prevention (NACP) had been passed.
Zelensky also said that the necessary bills on judicial reform had already been prepared and structural reforms were despite the impact of the pandemic.
Renaud-Basso welcomed the efforts and activities aimed at resuming the NACP's work.
Zelensky said that the Big Construction program for the large-scale renovation of infrastructure was being implemented in Ukraine, according to which about 4,200 kilometers of state roads and 2,500 kilometers of local roads will be repaired and built in the country this year.
"Active cooperation with the EBRD, the European Investment Bank and other financial institutions is important for us in terms of attracting additional credit funds for infrastructure investments. I welcome the agreement signed with Ukravtodor on December 18, which will allow us to start overhauling roads next year," he said.
Zelensky greeted Renaud-Basso on the upcoming holidays and invited him to visit Ukraine.
On December 18, the European Bank for Reconstruction and Development and the Government of Ukraine, represented by Infrastructure Minister Vladyslav Kryklii, signed a EUR 450 million loan agreement under the Ukraine Road Corridors project.
op