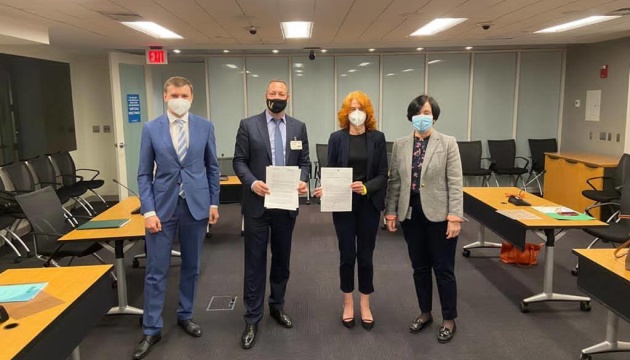 NBU governor, IFC discuss projects to increase financial services availability
During a working visit to the United States, National Bank of Ukraine (NBU) Governor Kyrylo Shevchenko met with Stephanie von Friedeburg, Interim Managing Director and Executive Vice President at the International Finance Corporation (IFC), to discuss projects to increase the availability of financial services.
This was reported by the NBU press service on Facebook.
The parties discussed the achievements made as a result of long-term cooperation between the two institutions and plans to deepen it.
"I'm pleased to note that the range of our cooperation is expanding every year. The NBU intends to keep its status as a leader in financial sector reform. Our track record includes initiatives to promote sustainable and green finance in Ukraine. We are happy about connecting to the Sustainable Banking Network (SBN), a community of financial sector regulatory agencies and banking associations from emerging markets. The SBN was created under IFC's auspices," Shevchenko said.
He noted that Ukraine understands the challenges posed by climate change for the sustainable development of the state. "Steps we've already taken include setting flexible conditions for banks to restructure green power producers' debts," the NBU governor said.
Other joint projects in the pipeline include improving the work of the public credit register, strengthening the consumer protection function, increasing financial literacy, developing a National Strategy for Financial Inclusion of Ukraine, and sharing EU experience in remotely identifying and verifying financial institutions' clients.
As reported, NBU Governor Kyrylo Shevchenko left for the United States, where he will discuss the prospects for Ukraine's cooperation with international partners. During the visit, meetings with the leadership of the International Monetary Fund, the World Bank and the International Finance Corporation (IFC) are planned. Shevchenko will be in the United States on November 8-13.
The National Bank has begun work on a national financial inclusion strategy, the implementation of which should ensure maximum access of the population to financial services and products.
ish