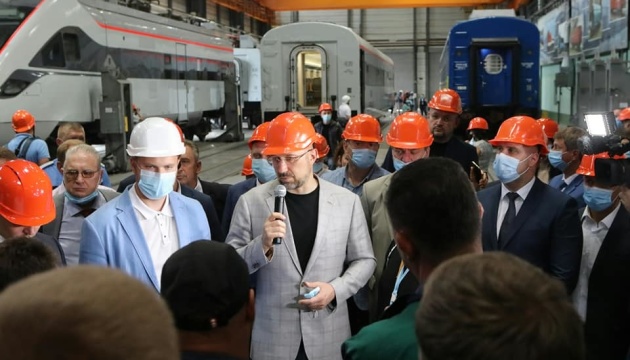 PM Shmyhal: It's critical to build up export potential of Ukraine
It is critical to build up the export potential of Ukraine, Prime Minister of Ukraine Denys Shmyhal emphasized during a sitting of the Cabinet of Ministers on July 29.
Shmyhal reminded that he and Government officials had visited PJSC "Kryukiv Railway Car Building Works" during yesterday's working trip to Poltava region.
"It is important to ensure that such strategic enterprises have plenty of work and are able to provide products to Ukraine and export our products abroad," the Prime Minister noted, Government portal informs.
Shmyhal stressed that the Government had a vision for the development of the industrial sector. In particular, it is critical to build up Ukraine's export potential.
"I will ask the Ministry of Foreign Affairs to reform certain diplomatic missions. It is crucial to reorient them to support the export potential of our producers," the Prime Minister said.
In addition, the Prime Minister authorized the Ministry of Economic Development, Trade, and Agriculture to develop initiatives allowing national car builders and metallurgists to receive a constant flow of orders.
"Yesterday, we discussed a plan for 3-5 years which would allow companies to feel confident and develop their production strategies," Denys Shmyhal summed up.
ol