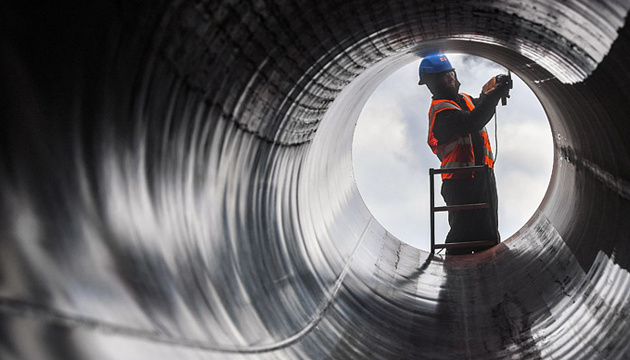 Energy security of Ukraine and Poland: Construction of Baltic Pipe starts
Construction of the Baltic Pipe gas pipeline starts simultaneously in Poland and Denmark so that Poland and other countries in the region, including Ukraine, could become energy independent of Russia.
A corresponding statement was made at a joint press briefing of President of Poland Andrzej Duda, Polish Government Commissioner for Strategic Energy Infrastructure Piotr Naimski, and CEO of GAZ-SYSTEM Tomasz Stępień in Warsaw on Monday, an Ukrinform correspondent reports.
"There is very good news for Poland not only for short term but – I truly believe – for decades. The construction of the Baltic Pipe starts. This gas pipeline will run from the Norwegian Sea shelf to Denmark and then from Denmark to Poland, on our coast from the Baltic Sea to Trzęsacz point," Duda said.
He added that the Baltic Pipe should be put into operation on October 1, 2022.
The Polish leader specified that the annual Baltic Pipe throughput will be about 10 billion cubic meters of gas. This figure exceeds Poland's gas needs so Poland wants to become a "gas hub for this part of Europe". Duda noted that Poland wanted to supply gas from the Norwegian Sea shelf to neighboring countries within the framework of the Three Seas Initiative, as well as to Ukraine, due to the construction of interconnectors.
"It is very important that Poland becomes one of the guarantors of Ukraine's energy security, which, as we know, suffered from Russia's gas and energy blackmail for many years. In this regard, this element is very important for sovereignty and full independence," the President of Poland said.
As a reminder, the so-called Yamal Contract between Poland and Russia, signed in 1996, provides for the supply of about 10 billion cubic meters of gas every year. Under the take-or-pay formula imposed by Gazprom on a Polish company, PGNiG must buy at least 8.7 billion cubic meters of gas annually (until 2022). Poland tries to diversify its energy supply sources, reducing dependence on Russia. The construction of the Baltic Pipe is crucial to Poland. Poland also buys liquefied gas from the US, Qatar, and Norway.
Recently, the Arbitration Institute of the Stockholm Chamber of Commerce ruled that the price of gas in the Yamal Contract failed to reflect the price level on the market and was overstated.
ol