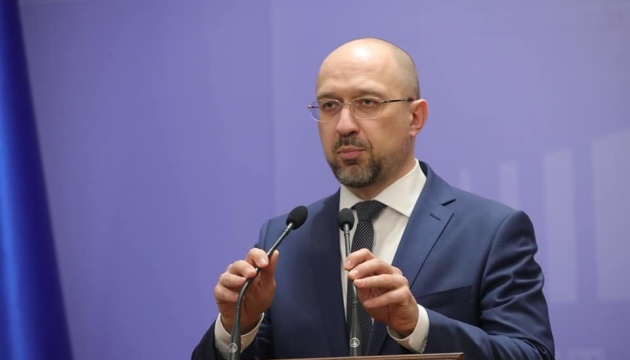 Shmyhal, Petrashko discuss activity with businesses amid quarantine
Ukrainian Prime Minister Denys Shmyhal and Minister for Economic Development, Trade and Agriculture Ihor Petrashko have discussed activities with representatives of the American Chamber of Commerce in Ukraine amid the coronavirus quarantine.
Shmyhal wrote this on his Facebook page.
"Today, together with Minister for Economic Development Ihor Petrashko, we held an online meeting with representatives of the American Chamber of Commerce in Ukraine. We discussed activities amid quarantine measures taken by the government due to the spread of coronavirus. We understand that restrictions may be unpleasant and inconvenient for businesses, however, they give a result in terms of saving the lives of Ukrainians," Shmyhal wrote.
He noted that the government was grateful to the American Chamber of Commerce companies for their understanding and responsibility.
Shmyhal stressed that no one has ready-made strategies in the face of the crisis and Ukraine takes into account the experience of other countries to anticipate the possible consequences of the COVID-19 pandemic. To this end, the government is actively communicating with businesses. "We are synchronized with businesses. Their recommendations are our roadmap to saving the economy," he wrote.
The head of government stressed that Ukraine cannot "sit on the sofa" for two to three months. "We need to think about economics, so together with business and the best scientists, we are working to create a strategic platform that will include leading economic experts," Shmyhal said.
"The importance of draft laws on banking and the land market approved by the Verkhovna Rada this week was separately noted during the conversation. Ukraine has already received positive feedback from the IMF and ambassadors of the G7 countries," Shmyhal added.
The quarantine has been introduced in Ukraine since March 12 to fight the spread of coronavirus infection COVID-19.
On March 17, the Cabinet of Ministers discontinued the operation of enterprises whose activities are intended to receive visitors. These restrictions do not apply to banks and insurance companies, but they apply to other non-banking financial institutions (currency exchange offices, financial companies, credit unions, pawnshops, etc.).
On March 25, the government lifted a ban on the wholesale of food, trade in veterinary drugs, veterinary practices, the sale of feed, pesticides and agrochemicals, seeds and planting materials, as well as some other activities.
On April 1, the government permitted the sale of spare parts for vehicles, day-old poultry and the work of pawnshops and credit unions during the quarantine period.
op