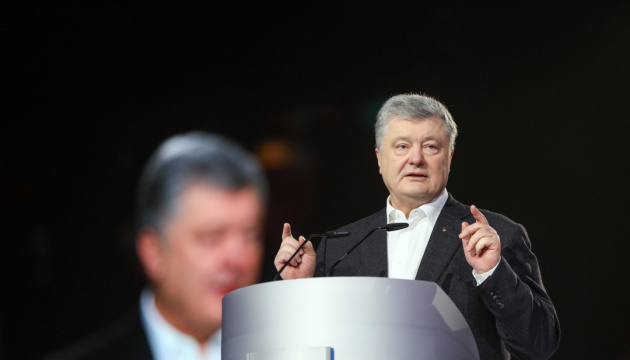 'Azov sanctions' package to be adopted next week – president
The package of the so-called "Azov sanctions" against Russia for its aggression against Ukrainian servicemen and the capture of Ukrainian sailors and several ships has been discussed and approved.
President Poroshenko said this to journalists following the first day of the working visit to Munich, the press service of the head of state reported.
"We have coordinated our efforts regarding sanctions today. The package of sanctions, the so-called "Azov package", was discussed and approved today - this is exactly what I promised you in December when we were forced to call for the global solidarity," Poroshenko said on Friday.
The president also instructed Ukrainian Foreign Minister Pavlo Klimkin to hold a meeting with Ukrainian partners on Sunday and discuss the preliminary coordination of actions regarding the introduction of sanctions. "And there is no doubt that in the coming days, at the beginning of next week, sanctions in Brussels in coordination with Ukraine will be definitely adopted," he added.
The head of state said that the issue of imposing sanctions had been discussed during his meeting with NATO Secretary General Jens Stoltenberg in the context of the liberation of Ukrainian seamen.
"This issue is constantly raised by our NATO partners at the NATO-Russia Commission and during the security conference meetings here in Munich. And of course, if there is no progress, sanctions will be applied in the near future," the president emphasized.
"Today the sanctions project consists of 124 pages, and this will be the price that Russia has to pay for the act of aggression against Ukraine," he noted.