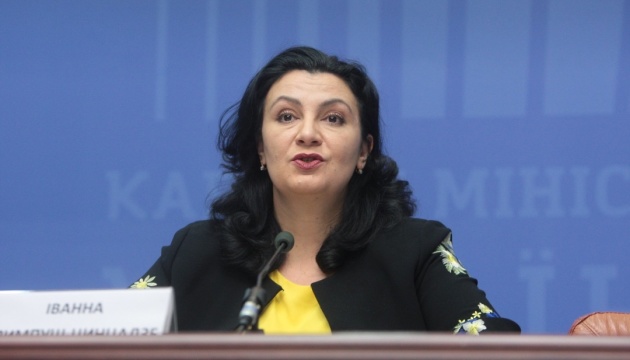 Klympush-Tsintsadze calls on EU to realize threats of Nord Stream 2
Ukraine does not see the readiness of European capitals to stop the construction of the Nord Stream 2 gas pipeline project, and this will have terrible consequences.
Ukraine's Deputy Prime Minister for European and Euro-Atlantic Integration Ivanna Klympush-Tsintsadze said this during a panel discussion of the Ukrainian House in Davos, an Ukrinform correspondent said.
"I'm afraid that Nord Stream 2 will be built. Unfortunately, arguments from Ukraine, Poland and the Baltic countries are not accepted in other capitals. It's a pity that even the proposal of the European Commission to apply to underwater gas pipelines the same rules that are currently applicable to land-based pipelines is not approved by the European Council," Klympush-Tsintsadze said.
She added that she was grateful to the United States for its clear position regarding the unacceptability of the implementation of the Russian project, but said there were still no signs that this position could lead to suspension of the construction of the gas pipeline.
"The question is when it will be built, and whether agreement could be reached during its implementation on transit through Ukraine. If there is no transit, it will be a direct invitation for the Russian Federation to commit another full-scale armed attack on Ukraine," she said.
According to her, realizing these threats, Ukraine agreed to hold trilateral negotiations with the EU and Russia, which were held on Monday, January 21. Russia stated that the EU rules do not apply to Ukraine. However, both the EU and Ukraine insist on such an approach.
"I think the main thing we heard yesterday [on January 21] during these talks is that Russia will be ready to continue them only after May. This shows that Russia has high expectations for the presidential election in Ukraine. I think everyone should take this signal very seriously," she said.
Klympush-Tsintsadze added that Russia wants to see a Ukrainian president with whom it will be able to agree on its own terms. Even returning to the negotiating table in May, Russia will be ready to talk about the extension of a ten-year contract, which expires at the end of the year, she said.
"All this means, unfortunately, that the Russian Federation is not going to play fairly by the rules after the construction of Nord Stream 2. It will use it as a lever of influence against Europe, as it used the issue of gas against Ukraine for decades. This should sober up our colleagues in the EU," she said.
Klympush-Tsintsadze called on European partners to realize the threats now, while the project has not been built yet and while it's not too late.