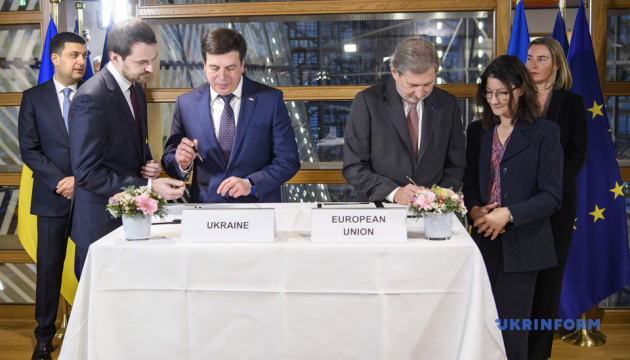 Ukraine, EU sign four financial agreements
Ukraine and the EU signed four important financial agreements during the Association Council, which began in Brussels on Monday, December 17.
The documents concern financial support of the European Commission for energy efficiency projects, raising the skills of employees of government agencies, the modernization of the vocational education system, the promotion of contacts between people from the EU and Ukrainian society, etc., according to an Ukrinform correspondent.
In particular, the purpose of the agreement between the Government of Ukraine and the European Commission on the financing of the action "Energy Efficiency Support Program for Ukraine – EE4U-II" is to attract assistance from the European Union to finance energy saving and energy efficiency measures in Ukraine, which will help reduce national energy consumption and greenhouse gas emissions and increase the energy security of Ukraine.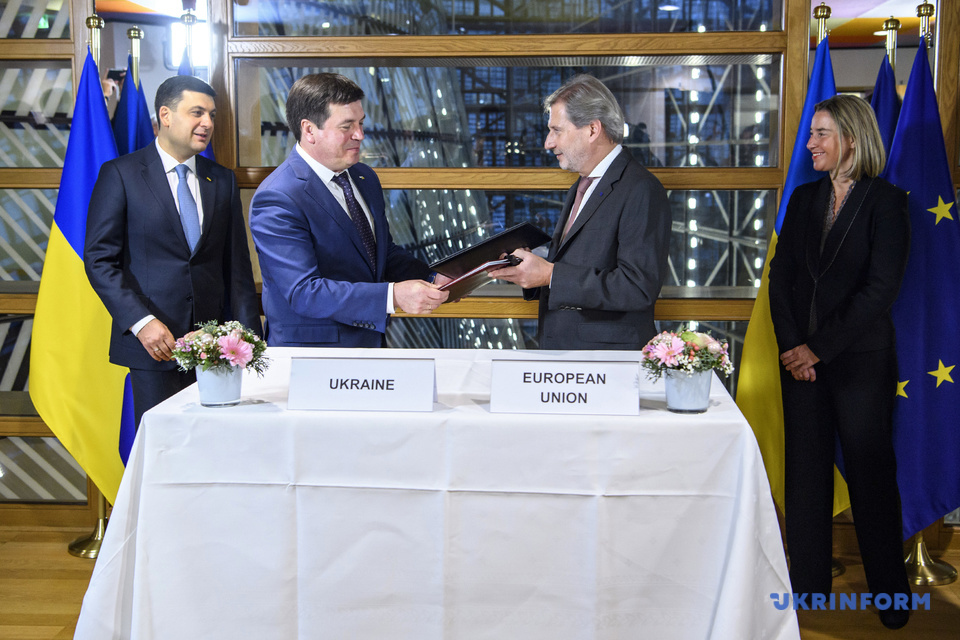 The document provides for the implementation of energy efficiency projects, which will reduce energy consumption at the level of multi-apartment buildings, improve the conditions for investment in this sector, and improve the energy audit system. The EU's total contribution under the agreement is 54 million euros.
The agreement was signed by Ukraine's Deputy Prime Minister and Minister for Regional Development, Construction, Housing and Utilities Hennadiy Zubko and EU Commissioner for European Neighborhood Policy and Enlargement Negotiations Johannes Hahn.
Another document – the agreement between the Government of Ukraine and the European Commission on the financing of the action "Technical Cooperation Facility 2018" - is aimed at strengthening the institutional capacity of the Ukrainian authorities to implement EU legislative norms in Ukrainian legislation, in particular, to ensure compliance with the Association Agreement/FTA provisions in selected priority areas: environment, transport, energy, sanitary and phytosanitary control, accounting, standardization, electronic communication, cybersecurity. The EU's total contribution under the agreement amounts to 37 million euros.
The third agreement - "EU4Skills: Better Skills for Modern Ukraine" – is aimed at reforming and modernizing the vocational education system in Ukraine to promote sustainable and inclusive socio-economic development through better economic governance, increased diversification and higher productivity. The total budget of the agreement is 58 million euros.
Finally, the fourth agreement – "People to People Contacts Program: House of Europe" - involves the European Union's assistance to promote people-to-people contacts with the EU and Ukrainian society to share best practices and promote mutual understanding. This document foresees, in particular, the professional exchange for short-term professional training in the EU member states, primarily through existing programs and projects of the member states, as well as support for the program and information center "House of Europe." The total EU contribution under this agreement is 18 million euros.