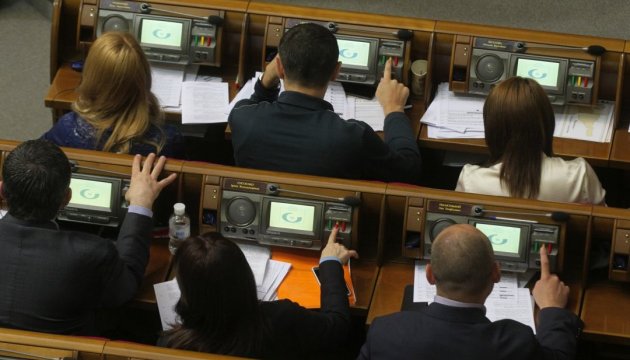 Parliament adopts law on housing and utility services
The Verkhovna Rada has adopted as a whole the bill on housing and utility services, which is part of the reform of the utilities sector.
The respective bill was supported by 262 deputies at a parliament meeting on Thursday, an Ukrinform correspondent reports.
At the same time, the parliament included in the bill the provision read out by Deputy Chairman of the Verkhovna Rada Committee on Construction, Urban Development and Housing and Utilities Services Olena Babak, which supplements Part 1, Article 26 with a new paragraph.
"Penalty is not charged if the state has arrears for privileges and housing subsidies provided to the public and/or if the consumer has wage arrears properly confirmed," Babak read out the clarification of the article.
The article notes that in case of untimely payments for housing and utility services, the consumer is obliged to pay a penalty in the amount established in the contract, but not higher than 0.01 percent of the amount of debt for each day of delay. The total amount of the paid penalty cannot exceed 100 percent of the total amount of the debt. The payment of the fine begins on the first working day following the last day of the deadline for payment of housing and utility services.
As reported, the bill on housing and utility services was registered by the Cabinet of Ministers in December 2014, but in November 2015, it was returned to the committee for further consideration and preparation for repeated first reading. In February 2016, the already revised draft law No. 1581-d was adopted at first reading, and in May 2017, the parliament sent it for repeated second reading.
The need for its adoption arose after the law on the peculiarities of realization of the property right in an apartment building came into force on July 1, 2015. It notes that in a multi-apartment building there can be only three forms of management: co-owners, associations of co-owners and managers. At the same time, relations between managers and co-owners of multi-apartment buildings are still not regulated.
op