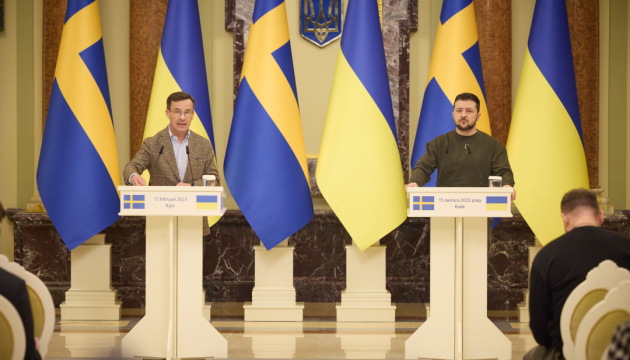 Sweden advocates creating coalition to supply fighter jets to Ukraine
Sweden advocates creating an international coalition that would make decisions on the supply of fighter jets to Ukraine.
"As for fighter jets, it seems like last week when we met in Brussels, a lot of countries said, 'We're not ruling it out. This is not the time for ruling this out.' But at the same time, we must acknowledge that the international coalition that must be created will take certain steps. We absolutely understand that this should not drag on for Ukraine," Prime Minister of Sweden Ulf Kristersson said at a joint press conference with President Volodymyr Zelensky in Kyiv, an Ukrinform correspondent reports.
Commenting on the supplies of the Swedish Archer artillery system, Kristersson declined to name exact dates and noted that there are practical issues related, in particular, to training. According to him, this will happen as soon as possible.
As reported, Ukraine seeks to obtain modern American F-16 or F-15 fighter jets or their European analogs – German Tornado or Swedish Gripen – to replace Soviet-era aircraft.
On January 19, the Government of Sweden approved a decision to provide Kyiv with additional support, including armored vehicles and anti-tank weapons, including Archer systems.