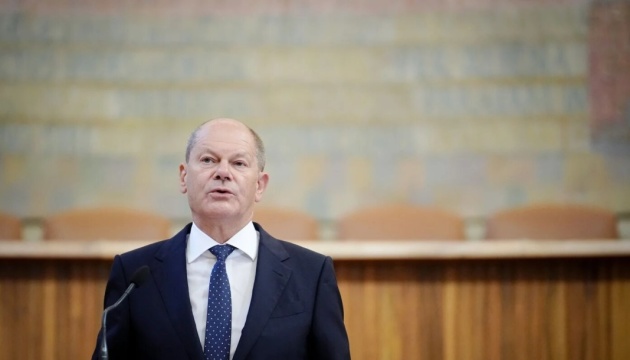 Germany to send air defense systems, radar systems, recon drones to Ukraine
Germany promises to provide Ukraine with new modern weapons and support in building its own air defense.
German Chancellor Olaf Scholz made a corresponding statement in his "European speech" at Charles University in Prague on August 29, an Ukrinform correspondent reports.
Scholz said that "in the coming weeks and months, Ukraine will receive [from Germany] new, very modern weapons: air defense equipment, radar systems, reconnaissance drones, etc... Our goal is the modern Armed Forces of Ukraine that can protect their country in the long term."
According to the German Chancellor, the latest security assistance package from Germany exceeds 600 million euros.
He added that the Federal Republic of Germany together with the Netherlands launched an initiative aimed at distributing tasks among Ukraine's partners for the long term, and this initiative should be approved as soon as possible. According to it, Germany, for example, assumes "special responsibility" in building up Ukrainian artillery and air defense.
Scholz emphasized that Russian president Putin could not put up with a united Europe as it did not fit into his world. Hence, it is all the more essential to provide Ukraine with economic, financial, political, humanitarian, and military support.
"We will continue providing this support reliably and as long as it takes," he promised.
At the same time, the politician noted that the reconstruction of destroyed Ukraine would be a "task for generations" and require significant international efforts and a "smart strategy." This will be discussed, in particular, at the expert conference in Berlin on October 25, to which Scholz and European Commission President Ursula von der Leyen would invite Ukraine and its partners from around the world.
ol