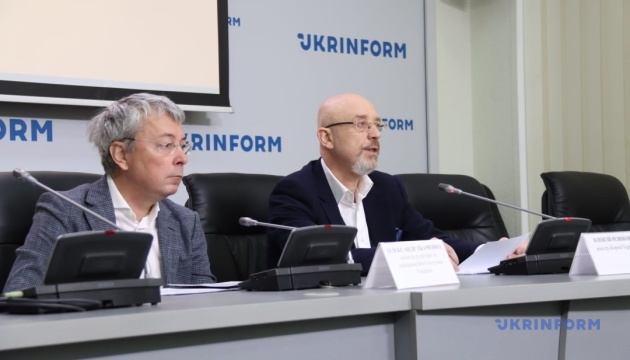 Russia keeps 9,000 troops in Belarus - Reznikov
Ukrainian Defense Minister Oleksii Reznikov has requested a phone call with Belarusian Defense Minister Viktor Khrenin in connection with the decision to extend Russian-Belarusian military drills "Allied Resolve 2022."
Reznikov said this at a briefing at Ukrinform on Monday, February 21.
"As for my contact with the Belarusian defense minister [...] we agreed with him on direct interaction. I wrote him a letter yesterday and through the attache of the Republic of Belarus in Ukraine I asked for a phone conversation to be held today in order to ask direct questions: what is happening? They officially announced the extension of those [Russian-Belarusian] exercises. So formally the exercises are not over, and Russian troops remain [in Belarus]," Reznikov said.
According to him, 9,000 Russian troops, as well as machinery and equipment, including missiles, are currently stationed in Belarus.
"But I want to say that such a contingent, that someone says that there will be an attack on Kyiv from the Belarusian side - excuse me, it sounds ridiculous. But threatening, intimidating us, creating a situation of such an alleged encirclement - yes, it works. That's why exercises have started in Transnistria, so that we could work hard, so that we could divert our resources. [...] But I repeat once again: the Ukrainian Armed Forces under the leadership of the Commander-in-Chief, the General Staff, and teams of professional combat officers are ready for any scenario," Reznikov said.
op