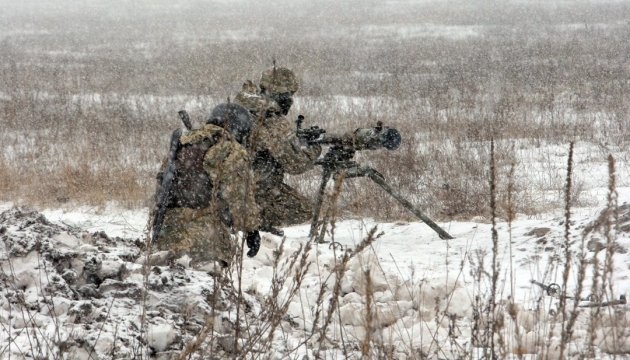 Donbas occupiers fire at own positions near Mariupol, accuse Ukraine Army of provocation
The Russian occupation forces employed heavy weapons to strike own positions near the village of Pikuzy outside Mariupol, now trying to put the blame for the attack on the Armed Forces of Ukraine.
That's according to a statement by Ukraine's military officials, Ukrinform reports.
"Today, in order to accuse Ukrainian troops of employing heavy weapons and draw the relevant picture for Russian propaganda media, Russian occupation forces carried out yet another provocation by opening fire with heavy weapons on their own positions in the village of Pikuzy," the statement said.
In particular, it is noted that at about 4:00 on Saturday, the shelling began of the Ukrainian defense positions in the area of ​​Vodiane, from the direction of Zaichenko. According to Ukraine's intelligence, at the same time, bursts were recorded in the area of ​​Pikuzy. This indicates that the occupying forces are trying to pass their own firing on their positions for a response attack by our military, the press service said.
By such actions, the invaders once again demonstrated their cynical and indifferent attitude to the lives and health of civilians, the Ukrainian military stressed.
The press service also noted that the enemy proceeds with its propaganda methods of waging an information war in order to accuse the Armed Forces of Ukraine of shelling the civilian population, thus trying to cover up their own insidious moves.
As Ukrinform reported, as of 11:00 on Saturday, February 19, the Russian occupation forces violated the ceasefire 25 times, including employing weapons proscribed by the Minsk agreements. As a result of the shelling, a Ukrainian serviceman sustained a shrapnel wound incompatible with life.
On February 17, at about 9:00, the occupiers shelled a kindergarten in Stanytsia Luhanska. The Kindrashivska-Nova train depot and a locomotive were also damaged in enemy fire.
At the same time, media outlets run by Russia's proxy forces accused Ukrainian troops of shelling a Stanytsia Luhanska kindergarten.
im