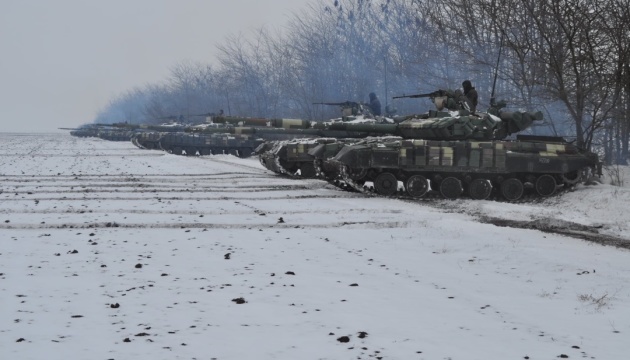 Massive exercises across Ukraine to work out defense against tank offensive
At several training grounds across the country, Ukrainian forces are undergoing tactical exercises are repel an attack by conventional enemy tanks and assault landing units.
The drill involves engineering units tasked with planting minefields, as well as tank crews and anti-tank artillery operators, Ukrinform reports with reference to the Army's Joint Forces Command.
"Every time we train, we must achieve the shortest time span between a unit commander making a decision and issuing an order, and specific gunners or tank crews fulfilling it," said Joint Forces Commander Lieutenant General Serhiy Nayev.
All maneuvers and tasks were performed swiftly and in an organized manner, the military official said.
The commander stressed that the experience of the Anti-Terrorist Operation and the Joint Forces Operation has shown that tanks remain at the core of offensive operations. That is why anti-tank and all-military reserves must always be ready for enemy fire.
As Ukrinform reported earlier, on January 5, military exercises kicked off at the Desna Training Center in Chernihiv region, where Ukrainian forces practiced using NLAW man-portable anti-tank guided missile systems.
im