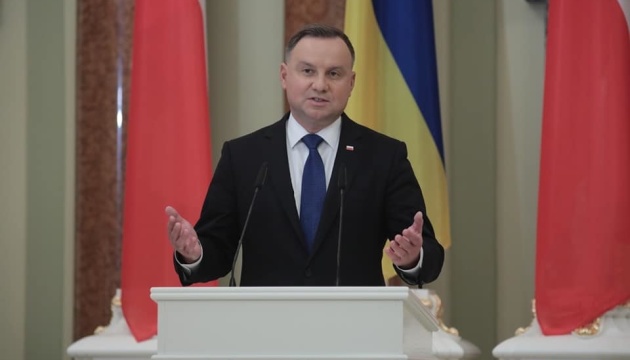 Poland handing over defense aid to Ukraine – Duda's Office
Poland has decided to hand over to Ukraine a batch of security assistance.
This was announced during a press conference in Warsaw on Monday by the head of the National Security Bureau (BBN) of Poland, Pawel Soloch, according to an Ukrinform correspondent.
"It was decided to transfer to the Ukrainian side ammunition of a defensive nature for defensive, not offensive action. This decision is currently being implemented by the Minister of National Defense," Soloch said.
According to the official, the decision was made in close cooperation between the government and the Office of the President of Poland.
Asked whether the weapons were intended for air defense, he confirmed they were. At the same time, the senior official added that the details would later be made public by the Polish Ministry of National Defense.
"We have made an offer to the Ukrainian side and are waiting for a response," Soloch said.
He said that Poland would supply Ukraine with the weapons that Kyiv would first select from the list proposed by the Polish side.
"We are ready to do so at any moment now," said the official.
He also said that the Polish offer today included the possibility of transferring "tens of thousands of pieces of ammunition."
The President's Minister clarified that military aid could be delivered to Ukraine "within days."
The Polish minister added that Warsaw would also provide humanitarian aid to Kyiv. These are the means required to help evacuate the population, as well as health care aid.
According to him, the head of the Polish government, Mateusz Morawiecki, will arrive in Kyiv on Tuesday, while the head of the Bureau of International Policy of the President of Poland, Jakub Kumoch, will be there on Monday.
The Minister of Defense of Ukraine, Oleksiy Reznikov, announced on Twitter on Monday that on February 1, he would have a phone call with the head of the Polish Defense Ministry, Mariusz Blaszczak. The main topic of the talks is to strengthen defense capabilities to ensure peace and security in the region.
As reported earlier, over the past few days, Polish officials have said that Warsaw is considering providing military assistance to Ukraine. However, Poland said this was not a public effort.
In an interview with the Polish newspaper Rzeczpospolita on Saturday (January 29), Reznikov said that Ukraine had not yet received any military aid from Poland.
im