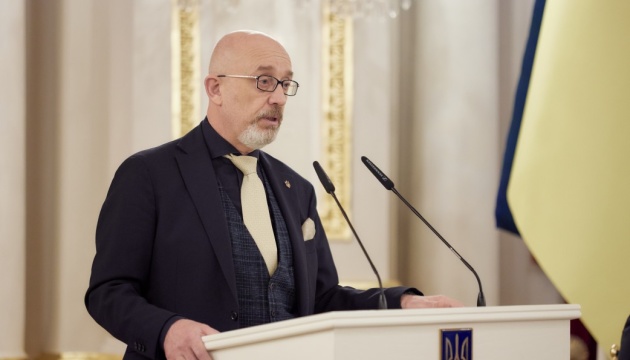 Reznikov: Number of Russian troops near border the same as in spring 2021
Current data on the build-up of Russian troops near Ukraine's border do not differ significantly from those of the spring of 2021, and the attention of the world's leading countries to the war in Ukraine is linked with geopolitical interests.
"In terms of mathematical quantity, the numbers are the same. We see a conditional 110,000 ground component if we are talking about the number of soldiers of the Armed Forces of the Russian Federation. If we add the air and sea components, there will be no more than 120,000-125,000 troops along the entire border of Ukraine, including the administrative border, the Autonomous Republic of Crimea, which is temporarily under occupation. I repeat once again: the figures are the same as we observed in the spring of 2021," Minister of Defense of Ukraine Oleksii Reznikov told LB.ua Ukrainian online media outlet in an interview.
He noted that over the past seven years, unfortunately, Ukraine had not been on the agenda of many countries, so the local media paid less attention to it, there was a "habituation effect", but the change in political elites in different countries and Russia's defiant behavior began to cause concern.
"And the demonstration of special support for Ukraine, a proactive position is important not only for you and me, not only for the outside world, not only because it is a response to the challenges of the bold Kremlin. It is also a matter of domestic policy. This has become the domestic policy of the United States, Great Britain, and the Baltic states. We remember Mr. Churchill's famous saying that there should be no lasting friends or enemies, only lasting interests. Today, it is in the interests of many countries to keep Ukraine on front pages," Reznikov noted.
As reported, on December 5, 2021, Defense Minister Reznikov stated that the total number of Russian troops near Ukraine's border could reach 175,000.
On January 19, Secretary of the National Security and Defense Council Oleksiy Danilov said that Russia would need a million troops to plan a full-scale ground operation. As of now, there are about 127,000 Russian troops, including the ground component of 106,000, near Ukraine's border. Danilov considers the current situation "uncritical".
ol