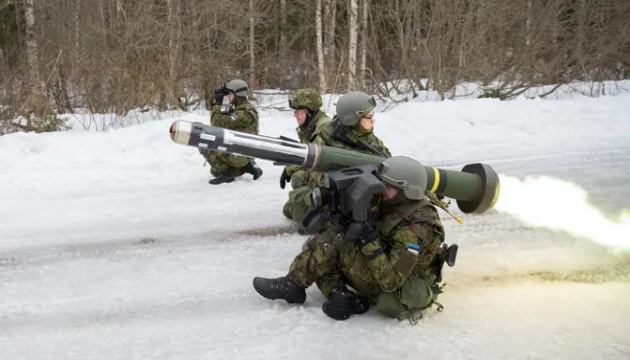 Baltic states get approval from U.S. to send weapons to Ukraine
The defense ministers of Latvia, Lithuania and Estonia have said in a joint statement that their countries have received approval from the United States to transfer U.S.-made weapons to Ukraine.
That's according to the Estonian broadcaster ERR, Ukrinform reports.
Estonian Minister of Defense Kalle Laanet, Latvian Minister of Defense Artis Pabriks and Lithuanian Minister of Defense Arvydas Anusauskas issued a press statement in support of Ukraine on Friday, January 21.
"Estonia, Latvia and Lithuania are uniting to support Ukraine's sovereignty and territorial integrity in the face of Russia's ongoing aggression. The Baltic states will continue to support Ukraine not only diplomatically and politically, but will also contribute to strengthening Ukraine's defense capabilities," the statement said.
According to the document, Estonia will transfer Javelin anti-tank missile systems to Ukraine, while Latvia and Lithuania will deliver Stinger missiles.
"Estonia, Latvia and Lithuania are working with their allies to quickly provide security assistance to Ukraine. We sincerely hope that Ukraine will not need to use these weapons, and we urge Russia to stop its aggressive and irresponsible behavior," the ministers said.
Laanet said that Ukraine is currently at the forefront of separating Europe from the military conflict with Russia.
"We have to be clear: the war in Ukraine is ongoing. And it is important to support Ukraine in every way we can so that they can resist the aggressor. Today […] we have all the necessary approvals from the United States to send the weapons. With these weapons, we show that we support [Ukraine] not only with words. The allies are united, but there is always a need for those who show initiative," he said.
op