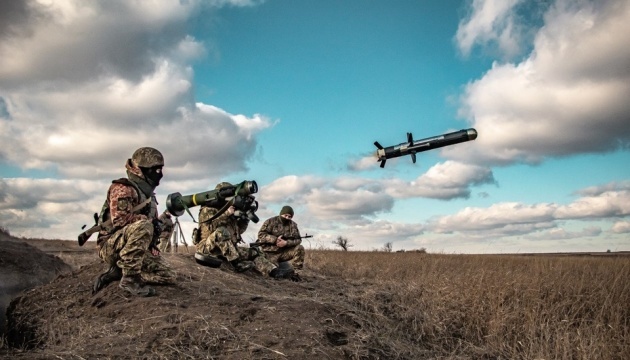 Ukrainian troops first time use Javelin in training in Donbas
For the first time since obtaining Javelin portable anti-tank missile systems from the U.S. as part of lethal aid, the Ukrainian Army used this weapon in a live-fire exercise in the Joint Forces Operation zone.
That's according to the press service of the JFO HQ, Ukrinform reported referring to a Facebook post.
The drill was approved by JF Commander Lieutenant General Oleksandr Pavliuk, the statement says.
It is specified that this is the first time that this man-portable fire-and-forget anti-tank missile system was used in a live-fire exercise in the zone of the Joint Forces Operation.
The troops were tasked to hit a conventional target – a tank in a trench – at a nearly 1.5-km range.
Among other things, the drill aimed to determine the effectiveness of the missile system in frigid weather conditions – low air temperatures and high winds.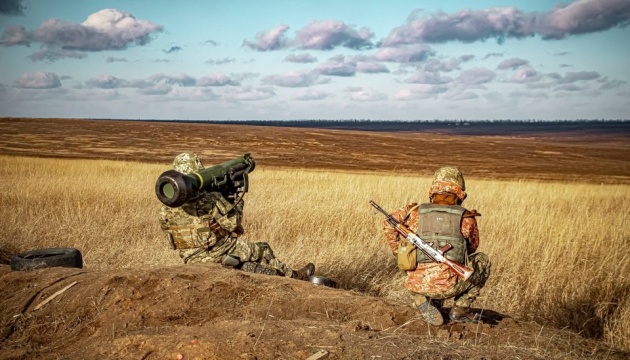 "Despite the fact that the soldiers fired this weapon for the first time, the task was completed successfully – the target of the conventional enemy was hit," the statement said.
An officer who commanded the exercise praised convenience in firing a Javelin missile and the fact that the missile is self-guided once launched while achieving almost 100 percent accuracy. Operating the said system poses no challenges to servicemen who have gained experience in firing domestic and Soviet-era models of man-portable anti-tank missile launchers.
As Ukrinform reported earlier, American journalists with ABC News in a report from the east of Ukraine aired footage from the Ukrainian Army's exercise, showing Javelins at the site. Ukrainian war journalist Andriy Tsaplienko also published a photo of the Ukrainian troops carrying these weapons in the Joint Forces Operation zone.
Russia has expressed outrage once seeing U.S.-supplied Javelins in the zone of hostilities in eastern Ukraine. Russia's Permanent Representative to the OSCE Oleksandr Lukashevich has traditionally accused Ukraine of "violating" the Minsk agreements and allegedly seeking to use force to resolve the conflict with the support of Western partners.
The United States Mission to the OSCE responded to Russia's outrage by pointing to Ukraine's right to self-defense and the exclusively defensive nature of the Javelin anti-tank missile systems.
im