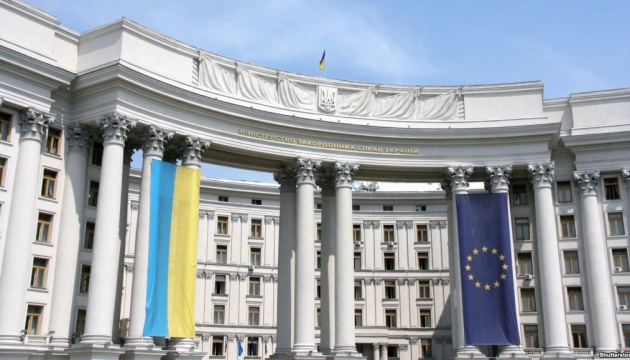 MFA Ukraine on "Americans and chemical weapons" in Donbas: Russia creating information cover for provocation
The Ministry of Foreign Affairs of Ukraine categorically rejects Russia's insinuations about the alleged chemical weapons, instructors with American private military companies, and shelling of residential neighborhoods in eastern Ukraine.
That's according to a comment provided to Ukrinform by Foreign Ministry Spokesman Oleh Nikolenko.
"We categorically reject the insinuations towards Ukraine made during the meeting of the board of the Ministry of Defense of the Russian Federation. Statements by the secretary of defense about alleged chemicals, instructors with American private military companies, and shelling of residential neighborhoods in Donbas are yet another example of Russia's massive disinformation. Russia continues to create information cover for possible further provocations by their troops on Ukrainian territory," the official said.
The spokesman added that the Foreign Ministry called on the Russian leadership to cease hostile rhetoric and abandon the language of ultimatums.
"Moscow's return to a constructive course will really confirm the desire declared by the Russian president at the board meeting to resolve the conflict through political and diplomatic tools," Nikolenko said.
The ministry noted that the first step should be for Russia to begin the implementation of the Minsk agreements and the accords of the Normandy Four leaders.
Also, Nikolenko added, ceasing armed aggression against Ukraine and rejecting the logic of confrontation by Russia would be the best security guarantee for the European continent.
As reported earlier, Russian Defense Minister Sergey Shoigu at the ministry's board meeting chaired by President Vladimir Putin claimed that Ukraine, together with the United States, was allegedly plotting a provocation in Donbas involving chemical weapons.
Spokesmen for the U.S. Department of State and the Department of Defense both denied the disinformation spread by Shoigu and the Russian media about Ukraine's alleged plot involving American "private military companies."
im